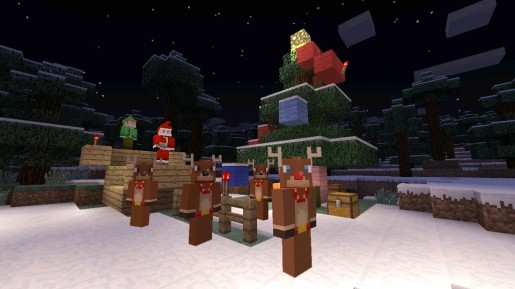 Owen Hill from Mojang has recently announced the release of The Festive Skin pack for Minecraft: Xbox 360 Edition.
The pack which includes 21 festive skins is already on sale for only 80 Microsoft Points. The skins pack which will brings a festive nature to one of the best selling indie, also comes with a promotional festive jingle which is to be sung to the tune of Jingle Bells:
Now a Festive Pack is on sale,
So you can dress all Christmassy,
80 points – you cannot fail,
If you play on 360.

You can wear a Santa suit,
Or look just like his wife,
You will look extremely cute ,
On these festive Christmas nights. Hey!

Jingle Bells, Minecraft sells!
You can play it on holiday.
Oh what fun it is to dig,
Playing solo or in multiplay. Hey!

Have a very Merry Christmas!