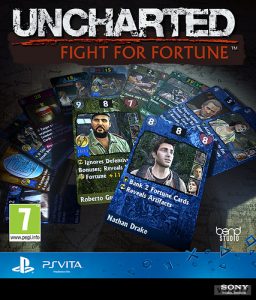 Following it's leak via the Australian Classification Board database, Uncharted: Fight for Fortune has been officially announced for the PlayStation Vita. The PS Blog EU shared the details of this turn-based card game and revealed that Sony Bend is the team behind the title.
Check out the reveal trailer.
Create your own deck and fill it with familiar faces (such as Doughnut Drake, or just regular Drake). Then battle it out against the AI or your friends online. Before doing so, you can give yourself the edge with collected artifacts from Golden Abyss for an added boost. This may not have been the expected follow-up to Golden Abyss, but it could be an interesting change of pace.
Uncharted: Fight for Fortune will be available this December.