Sleeping Dogs' open world has taken on a gloomy theme for Halloween, filling its once lively streets with the undead. Sound familiar? Of course it does. Sure, Red Dead Redemption and inFamous 2 have done this already via downloadable expansions, but that doesn't mean there isn't room for another great title to pull off this. The question is, can Sleeping Dogs succeed where other free roam giants have before?
Nightmare in North Point transforms Hong Kong into something much more sinister. Jiang Shi, Chinese vampires and zombies, roam the streets and alleyways waiting to face off against the undercover cop who just can't seem to catch a break, Wei Shen. In order to defeat this new supernatural force and its leader, Smiley Cat, Wei is going to have to dabble in the dark arts himself. So, returning the original question, how does this spooky add-on rank amongst the rest?
Let's find out what's HOT and what's NOT in our review of Sleeping Dogs' Nightmare in North Point DLC.
HOT
Interesting Mythology
Sleeping Dogs takes the undead premise in a different direction than other games, opting for a tale tied closely to Chinese mythology. You won't see the shambling, rotting corpses that countless video games have portrayed over the years. Instead, you'll be battling the Jiang Shi, perfectly capable fighters that have risen from their graves. These opponents can be brought down by a flurry of fists, but they can be dispatched quickly by using a peach wood sword or by placing a piece of parchment on their forehead, as seen in Encounters of the Spooky Kind and Mr. Vampire. Providing this different view on a heavily covered subject helps Nightmare in North Point stand out in this regard.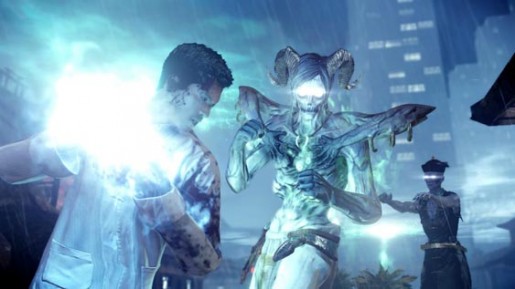 NOT
Short and Lackluster Story
Nightmare in North Point is extremely short, which should have been given away by its low price point of $4.99. What this DLC provides is a small grouping of main missions and optional objectives. It all comes to a close shortly after it begins, without much of anything in between. Things kick off with Wei and his date exiting the theater after watching a movie based on the Jiang Shi. Not a few steps out of the theater and Smiley Cat, the DLC's main baddie, swoops in to kidnap Wei's date and leaves behind a wave of Jiang Shi to deal with. This leads our martial arts hero on a short journey (highlighted by some familiar faces) to return the undead to their original resting places before entering the anticlimactic final battle. Everything leading up to the point is repetitive and uninteresting. Portals appear on the map as side missions where Wei can go out of his way to brawl with more Jiang Shi. Unfortunately, the rewards for going the extra mile are, unsurprisingly, disappointing. Your hard work will earn you everything you've already gained in the main campaign, which includes clothing and vehicles.
Sleeping Dogs: Nightmare in North Point DLC Review

,