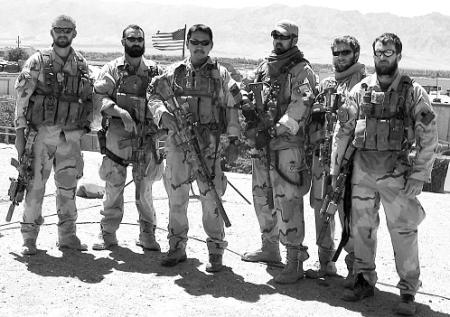 Seven members of the US Navy's elite SEAL Team Six that are currently on active duty have been disciplined for revealing classified information whilst collaborating with EA on Medal of Honor: Warfighter.
According to the CBS News report, for two days earlier this spring and summer the SEALs worked as paid consultants on EA's latest instalment in the Medal of Honor franchise. Four other SEALs based on the West Coast, who are still on active duty but have transferred out of the unit, are also under investigation for allegedly disclosing military secrets.
"We do not tolerate deviations from the policies that govern who we are and what we do as sailors," Rear Adm. Gary Bonelli, deputy commander of the Naval Special Warfare Command, said in a statement. "The non-judicial punishment decisions made today send a clear message throughout our force that we are and will be held to a high standard of accountability," he added.
One of the SEALs disciplined was on the raid which killed Osama bin Laden, whilst the game does not recreate the raid itself, it does portray realistic missions, which keeps in line with EA's press release back in July that stated 'the game was written by U.S. Tier 1 Operators while deployed overseas'. The nature of the information that the SEALs disclosed was not stated, but according to the report by CBS, they used classified material given to them by the Navy while working as consultants. It is not clear if any classified information was actually used in the game.
The seven SEALs involved in the Tom Clancy-esque conspiracy have each received a letter of reprimand and docked half their wages for two months – which seems rather light considering they let slip some of the most guarded and well kept national security secrets regarding black ops missions overseas. Naturally, these allegations will effectively kill any chance of future promotion for the SEALs and will most likely force them out of SEAL Team Six. "It essentially makes it hard for them to continue as SEALs," a senior official said.
This isn't the first time in recent history US Navy SEALs have gone against their sacred code that 'SEALs are silent warriors who shun the spotlight.'  The movie 'Act of Valor' features no less than eight active duty Navy SEALs and was approved by Adm. William McRaven, the commander of the bin Laden raid and now the head of the Special Operations Command. "Yes, there are SEALs, I think eight of them, active duty Navy SEALs, that are in it," said McRaven. "It started as a recruiting film."
Whilst officials in the Pentagon are likely going red faced, EA on the other hand probably can't believe their luck. Medal of Honor: Warfighter was poorly received by critics with a metacritic score of under 60, these allegations are worth millions in priceless PR to the publisher as their company and product is now one of the most talked about stories in world media.