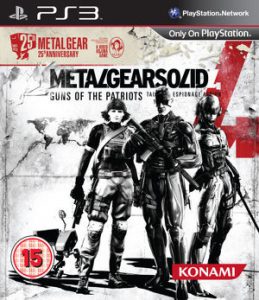 You've heard it several times before, but here it is again: rumor has it that Metal Gear Solid 4 will be making its way to the Xbox 360. So, who reignited this rumor? Online retailer Mighty Ape has added a listing for an Xbox 360 version of Metal Gear Solid 4, but it isn't the standard version.
As you may recall, earlier this month we reported that Metal Gear Solid 4 25th Anniversary Edition is coming to PS3, trophy update included. Given that the Metal Gear Solid HD Collection and Metal Gear Rising: Revengeance were both multiplatform releases, it wouldn't be too surprising to see the fourth game make the jump as well, especially since the trophies would be easily converted to achievements.
The 25th Anniversary Edition is set to release on the 30th in the UK. So, unless the 360 version is planned to hit stores at a later date, it seems unlikely that a second version of the game would be announced in the next two days. If, however, that does happen, we'll have that news for you right here at JPS. So check back soon.