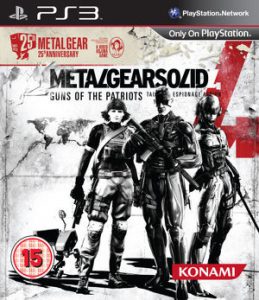 The Metal Gear franchise is now 25 years old and Konami is celebrating the occassion by re-releasing Metal Gear Solid 4.
The game was spotted by several online UK retailers with an all-new cool looking cover. It has a suggested retail price of £19.99 and is due for release from November 30th.
Unlike the Metal Gear Solid HD collection, this re-release will be for the PS3 only. It's unknown at this stage if this version of Metal Gear Solid 4 will add new features to the game.
Source: AllGamesBeta