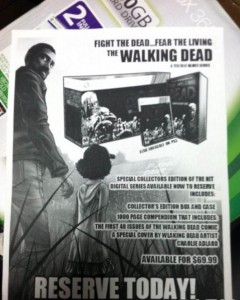 While we all wait for The Walking Dead: The Game's fifth and final episode No Time Left to release, its retail release is being prepared for December 4th. GameStop has started handing out promotional flyers for the boxed variation of the current episodic content, as told by one IGN reader, and has revealed that The Walking Dead: The Game will have a collector's edition.
For $69.99, the collector's edition can be yours. Here's what's inside the box:
Collector's Edition Box and Case
1,000 Page Compendium – First 48 Issues of The Walking Dead Comic
A Special Cover by Walking (note correct spelling) Dead Artist Charlie Adlard
With The Walking Dead Compendium 1 ranging from $35-$60, depending on the retailer, and the retail game debuting at $29.99, the price seems fair. However, I'm sure fans of The Waking Dead already have either the compendium or the game (or both), so this edition's appeal mainly comes the unique compendium cover.
Will you be reserving yourself a collector's edition of The Walking Dead: The Game? Let us know in the comment section below.