Last year the unthinkable crossover of Street Fighter and Tekken surprised many gamers. This wasn't because they were rival series from different publishers, but the fact that they were from different genres. After Street Fighter X Tekken came out for the PS3/Xbox 360, many were impressed by how it played, but many more were disappointed by some unfortunate turn of events. With many waiting for the updated Vita version, can it "right" the wrongs of the original or will it be yet another fiasco with this title?
Lets check out what's HOT and what's NOT in our review of Street Fighter X Tekken Vita.
HOT
Home Console Experience on the Go
Similar to Ultimate Marvel vs Capcom 3; Street Fighter X Tekken matches the quality of the already released console version. Everything you loved about the original game, be it the number of characters, arcade mode, or online multiplayer is on par with its console counterpart. What's even more impressive is that the game STILL manages to pull off 60 fps, which makes the transition/timing a lot easier for any skill level.
55 Fantastic Fighters
Easily the best part of Street Fighter X Tekken is the vast character selection. Whether you're a fan of Street Fighter or the Tekken series, you're bound to find someone you like among the 55 playable characters. Each of these characters stay true to their routes, though some Tekken fighters are better than others. For instance, I thought Bryan was a fantastic 2D fighter, where as I didn't get the same impression from King. Regardless of the fact they come from a completely different genre, every character uses the standard Capcom inputs, which means long standing fans won't have to learn much to master these new characters. While Tekken fans will need to get used to the new setting, Capcom did a great job on keeping these characters true to their roots.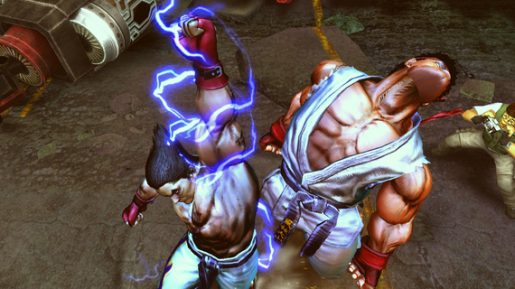 Vita Exclusive Features
In addition to matching the console experience, the Vita version also features a bunch of new features. One of the biggest is the battle tap system, which allows you to fight by taping invisible boxes on the touch panels. These boxes can be enlarged or shrunk to better suit your needs or simply disabled altogether. You can also further increase the usefulness of touch commands by enabling casual style mode. This will allow you to use special command by simply flicking the screen, so you can perform a hadouken by swiping your finger. I personally found the mode hard to get use to, though others might find it enjoy. Similar to the battle tap system, this can also be disabled, so using it is completely optional.
Besides adding new controls, the online mode has also received a few new updates. While most of them are obvious things like, Ad Hoc matches, sharing custom data via Near, trading replays, K.O. Monuments are actually pretty cool. As the name might suggest, these are monuments of the exact moment you KOed someone online. You're given roughly 100 slots, but you can remove some if you want. Every slot shows the defeated persons name, character, and what they looked at the moment they lost. While this really is a minor feature, it has certain bragging rights similar to dog tags in Battlefield.
Street Fighter X Tekken (PS Vita) Review, 7.4 out of 10 based on 7 ratings