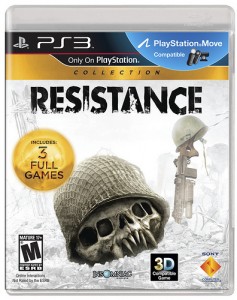 Sony continues to roll out more and more collections for the PS3 as the year goes on, this time for the popular Resistance franchise.
Coming later this year will be the Resistance collection. Included in the package will be all three titles: Fall of Man, 2, and 3. On top of the vanilla games will be an assortment of additional downloadable content for the second and third games. For Resistance 2, you will get the Aftermath map pack and skin bundle, where as you will score both the Brutality and Survival content packs for the third game.
The release date is planned to be announced in coming weeks, but this is a great opportunity to finally play the games if you hadn't already, or go through again for the low bundle price of $39.99.