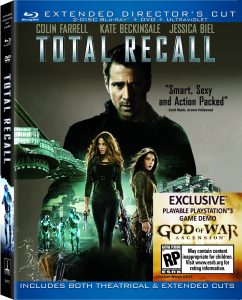 Sony Pictures Home Entertainment and Sony Santa Monica have teamed up to bring us a special offer. By picking up the Director's Cut Total Recall Blu-ray and Blu-ray/DVD Combo Pack on December 18th, access will be granted to the God of War: Ascension E3 2012 single-player demo.
After popping in the blu-ray, you can find the demo ready to go. This will give players their first hands-on glimpse of the new mechanics and fluidity of battle. While this is exciting for most I'm sure, it is unfortunate that it is being bundled with Total Recall — a movie that only 30% of critics and 46% of viewers found acceptable, according to RottenTomatoes.
If you were not originally planning on purchasing Total Recall later this year, has this news changed your mind? Let us know in the comment section below.