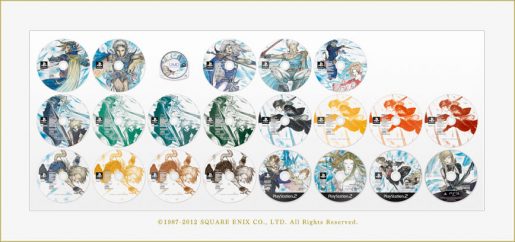 Square Enix announced during its special Final Fantasy 25th Anniversary event an ultimate Final Fantasy collection hardcore collectors may be interested in purchasing.
The game box includes all 13 main entry Final Fantasy games in their entirety. Some of the game discs are for the PSP, PSone, PS2 and PS3 console. Not only does it include all of the Final Fantasy games biut artwork, a soundtrack and other goodies.
It appears as if this collection will be a Japan exclusive. It will cost ¥35,000 and will be available exclusively via Square Enix's e-shop.
Check out what you will receive below:
-Final Fantasy (PS1, 1 disc)
-Final Fantasy II (PS1, 1 disc)
-Final Fantasy III (PSP, 1 disc)
-Final Fantasy IV (PS1, 1 disc)
-Final Fantasy V (PS1, 1 disc)
-Final Fantasy VI (PS1, 1 disc)
-Final Fantasy VII International (PS1, 4 discs)
-Final Fantasy VIII (PS1, 4 discs)
-Final Fantasy IX (PS1, 4 discs)
-Final Fantasy X (PS2, 1 disc)
-Final Fantasy XI Vana'diel Collection 2 (PS2, 1 disc)
-Final Fantasy XII (PS2, 1 disc)
-Final Fantasy XIII (PS3, 1 disc)
-Special anniversary video disc
-Crystal ArtWorks — an anniversary visual art collection
-A two disc anniversary music selection CD
-Final Fantasy XIV Mogu Mogu Earring item code
-Mini replica of Amano FF 25th Anniversary visual and stand
Source: Andriasang