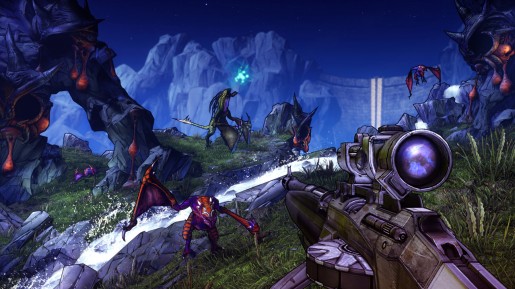 Vault Hunter Mode
As soon as you finish your game, you will then have an opportunity to replay the game under the new Vault Hunter mode. Think of the new mode as the New Game Plus where all of your items and levels carries over to your second play through. Regardless if you hit the level cap of 50, there will still be something to do on your second play through – get more rarer loots and fight raid-bosses with your friends up to for player.
Impressive Presentation
With Borderlands 2 offering a somewhat open-world gameplay, you can expect to see some of the most beautiful locales within the game. From the barren tundra through the lush jungles that you'll go through, you can expect everything to be fleshed out and you will feel its lively environments. On every terrain you see, you can be sure that you can visit it and uncover a much more beautiful sight of the game's environments. Comparing the visuals of the second game to the first Borderlands, only slight improvements can be seen but it's much more clearer and dense in Borderlands 2.
NOT
Rinse & Repeat Sidequests
One of the things I find tedious in the first Borderlands is the rinse and repeat style of quests. As with most RPGs, the rinse and repeat quests are pretty common, thus you should expect the same thing in Borderlands 2. From kill these monsters to deliver this mail to this place, you can expect to do these kind of quests in Borderlands 2. It may be boring, but it's there for everyone to do if they want extra experience points to hit the level 50 cap or take a break from the exhausting long story missions of the game. While the majority are boring and tedious, there are interesting quests available in Borderlands 2 but its minimal.
Lots of Pop-Ins
If you're playing on the console, don't expect the best visual quality as the game will be bombarded with frequent pop-ins regardless if you installed the full game or not on the Xbox 360. The textures and environments in Borderlands 2 are pretty much similar to the first game but texture pop-ins are there for you to see. Whenever you go from one area to the next, you can see the mountains texture slowly loading, thus producing pop-ins. It's not a bad thing at all since this is pretty common to games as big as this on consoles.
VERDICT
Borderlands 2 is yet another fantastic game by Gearbox Software, which should live up to fan expectations. The original formula is still present, but a number of improvements and additions make it far more enjoyable. More loot can be uncovered, the storyline is better then the original, while still retaining the originals charm, an addictive co-op multiplayer and challenges that will allow you to make your character more powerful. Despite the minor mishaps, like pop-in visuals that you will frequently see and the rinse & repeat sidequests, it will all be neglected and forgotten as Borderlands 2 looks to be one of the best shooters this year!
[Editor's Note: Borderlands 2 was reviewed on the Xbox 360 platform. The game was provided to us by the publisher for review purposes.]
Borderlands 2 Review

,