Not many people will remember that the first The Expendables movie actually had a video game of its own when it was released back in 2010. It was available for free via the movie's official facebook page and was a retro-style NES game. It was a fun game, but fans of the movie wanted something more modern and explosive. Fast forward to 2012 and we now get a sequel to both the movie and the game. The Expendables 2 video game is no longer a NES title and is available for the PC, PSN and XBLA.
With all that being said, is this the game action fans were hoping for? The Expendables 2 movie promises to be the most manly movie out this year but does the video game pack the same kind of punch? Let's find out as we take a look at what's HOT and NOT in our review of The Expendables 2 Video Game.
Hot
Funny Voice Acting
Four characters from the film are playable in the video game. They are Barney Ross, Gunner Jensen, Yin Yang and Hale Caesar. This is Sylvester Stallone, Dolph Lundgren, Jet Li and Terry Crews respectively. Although Jason Statham's character was available in the first game, he's missing in action here even though he stars in the movie's sequel. Only Terry Crews and Dolph Lundgren decided to voice their virtual counterparts for the video game and they do a decent job for the terrible pieces of dialogue they have to utter.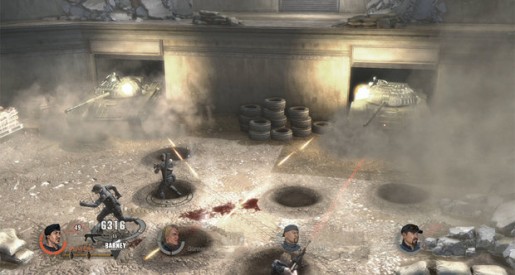 As for Stallone and Li's characters, they have been replaced by some pretty humorous yet terrible voice actors. I knew straight away that it wasn't the real Stallone voicing Barney Ross as it sounds more like a bad parody. Some people may see this as a negative, but I couldn't help but laugh every time he spoke. As for Yin Yang, he sounds nothing like Jet Li or even a Chinese person for that matter! Despite how bad the voicing acting is in this game, nobody expected this to be a masterpiece and I couldn't help myself from laughing every time the characters spoke in this game.
4 Player Co-op Both Online And Offline
Unlike the disappointing Tony Hawk's Pro Skater HD game, this game includes BOTH offline and online multiplayer. Since there are four playable characters in the game, up to three mates can join you as you shoot every moving thing in your path. I found the game to be a lot more enjoyable playing with a friend as it becomes quite a shallow and boring experience if you're playing the game solo.
Change Characters Anytime
Another great feature about The Expendables 2 is that you can switch to be any of the four players anytime you want by pressing any of the digital direction buttons. This becomes a very helpful tool because each character has access to different types of weapons. Yin Yang is arguably the best character because he has some throwing knives. The only time you cannot switch characters is if another human player is using that character and refuses to swap with you.
The Expendables 2 Review

,