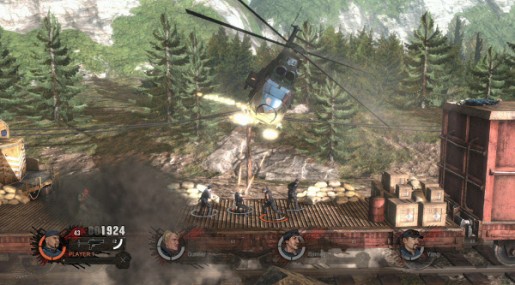 Not
Very Repetitive
There are many old-school shooting games available for the PSN and XBLA. I've played a number of them and some are quite fun. As a young kid, one of my favorite side scrolling shooting games were the Metal Slug games. The Metal Slug games were fun and offered many challenges within each level to keep the gameplay fresh and exciting the whole time.
Sadly, this is not the case for The Expendables 2 as each level plays exactly the same as the next one. Apart from a few segments in the game that allow you to control a gun/missile turret, the majority of the game sees you on foot where you just shoot at waves upon waves of the same looking bad guys.
As I mentioned before, not all shooting games have to be repetitive but The Expendables 2 gets boring very quickly. Playing with a couple of mates may make the game slightly more fun but after an hour or so, you will get bored of this game very quickly from then on.
PS2-Like Graphics
Many PSN/XBLA games are released each year and a number of them look great. The Expendables 2 is not one of them and looks more like a shoddy PS2 or even PSOne game at best. The small character models and environments in this game are downright ugly and everything looks dirty and unpolished. I still cannot believe this game was released for the PS3 and Xbox 360 as this game looks nothing like one. Even the SOCOM games on the PS2 look better than this…
Shoddy Camera
The top down isometric camera view is the biggest crime this game commits. Everything is too small for its own good that it's hard to see what you are shooting at. Sometimes you cannot even tell if you're killing baddies or even hitting them. The camera gets worse if you need to collect a rocket launcher to destroy a tank. It gets hard to see where the damn thing is when there are lots of baddies trying to kill you all the time. Not to mention one other time my teammate got stuck onto an invisible barrier.
Auto-Save Issues?
I'm not sure if this was a one-off occurrence or a flaw in the game itself but it happened anyway. I was playing an offline co-op game with my brother and we got up to the second level. We quit the game to have some lunch and were shocked to see that none of our progress had been saved. We had to start the game all over again. This may or may not happen to you but just make sure the saving icon appears each time you complete a level next time. It appears as if this game's auto-saving feature isn't as efficient as it should be.
Short Shallow Game
The campaign is the only thing that is included in the game as there are no other features or challenges here. Once you finish the short 4 hour or so campaign, there's nothing else left for you to do. I highly doubt many people would want to play this game again unless you enjoy playing repetitive shooters with ugly PS2 graphics all over again…
Verdict
The Expendables 2 video game could have been a very fun arcade-like shooting game like the Metal Slug series but it's not. Sure the offline and online co-op mode is fun, but it only lasts for a little while. The game's shoddy visuals and repetitive gameplay is what prevents this from being as fun as it potentially could have been. Let's hope the movie isn't as bad as the video game when it's out later this month…
[Editor's Note: The Expendables 2 was reviewed on the PS3 platform. The game was provided to us by the publisher for review purposes.]
The Expendables 2 Review

,