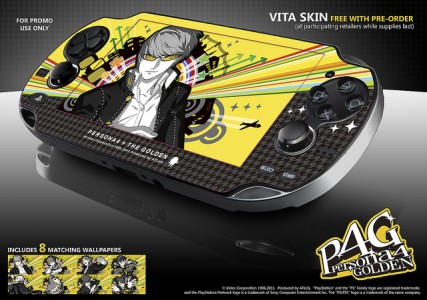 Everyone loves Atlus due to the amazing pre-order incentives that they offer to fans. If you're thinking of purchasing Persona 4: The Golden on the Vita, you might want to pre-order it as there's a pre-order bonus waiting for you.
For gamers who wants to have that Persona 4 theme onto your Vita, pre-ordering the game will get you a free skin. It's no ordinary, ugly skin as based on the image that Atlus showed, the skin looks actually spectacular on the Vita. Simply stick the skin on top of the Vita, and bam your Persona-fied.
Persona 4: Golden is the remastered edition of the popular Persona 4 on the PS2. Fans can expect remastered visuals, added scenarios, and many more. Check back with us near the release date this October for our review.