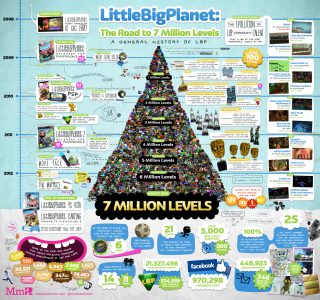 And the millions of levels just keep flowing in as the days pass. Last night, another milestone was succeeded in the LittleBigPlanet universe when the seven millionth level was published.
Last night, around the same time Usain Bolt pzwned the 100m sprint at the London 2012 Olympics, the seven millionth level was published to the LittleBigPlanet servers.
 As you can see in the strangely themed tree diagram, many quite impressive milestones have happened in the LittleBigPlanet universe over the past five years. August 2012 being the date for seven million published levels, while it was only a mere three years ago when Media Molecule reported that their first million had been published.
If you would like to look at the list of accomplishments in a bit more detail, click on the image, and it will get quite blown up. What do you think about this?