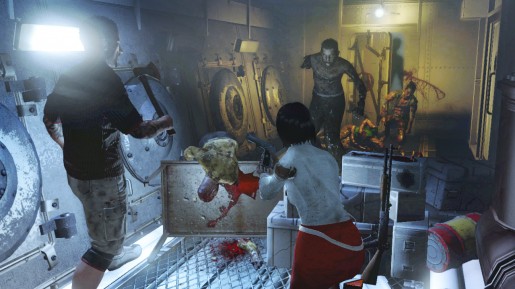 Deep Silver finally revealed today the first details to their follow up blockbuster title; Dead Island Riptide. Since it's reveal several months ago, Deep Silver had gone quiet about the game and today new details were revealed that fans of the first game will be happy to hear.
Dead Island Riptide is the sequel of the first game. Following their escape in the Banoi Island on a military ship, a furious storm hits them, thus havoc quickly spreads on board. With another nightmare upon them, the team has to survive as they go through different weather conditions that will test their ability to survive. Zombies are also back and with a new character that will join the team, which gives everyone hope of survival.
Here's the full list of things that you can expect in Dead Island Riptide. The game is currently scheduled for release next year on the Xbox 360, PS3, and PC.
With invigorating new elements infused into a proven mix, Dead Island Riptide will reanimate the zombie terror in the original game. A monsoon has hit the once beautiful archipelago and heavy rainstorms have laid waste to large areas of the islands. The city of Henderson and jungle areas on the island of Palanai were flooded leaving boats as the only remaining way of transportation. Dynamic weather conditions will force the team members to adapt to changing visibility conditions.

A fifth character will join the team, with an all-new and unique skillset. The combined skills of the group will be sorely needed, since terrible, new and unknown zombie mutations have emerged all over the island.

In new hub defense missions, the coop teamwork skills of the survivors will be tested to the limit – they need to strategically place traps, fences and turrets to fend off oncoming Zombie onslaughts and to protect the humans in these sanctuaries.

New communication features in coop mode also allow players to enjoy an even more intense and strategic team experience.