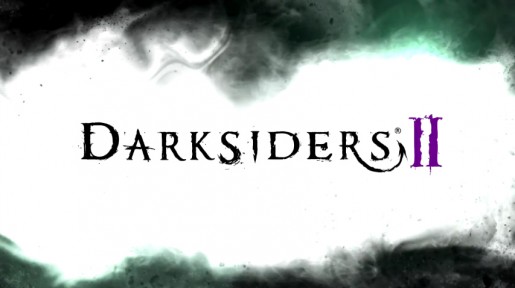 2010 saw the release of an exceptional title known as Darksiders, but unfortunately it went largely unnoticed despite all of its glory. The story of War's journey for redemption was an epic tale revolving around the Four Horsemen of the Apocalypse, angels, demons and the complete annihilation of mankind. Not wanting anyone to miss the latest apocalyptic adventure, THQ has gone all out in the marketing department to avoid releasing another "sleeper hit".
While the title Darksiders II informs the player that it is a sequel, the game isn't your typical follow-up. Instead of picking up at the end of the first entry, Darksiders II follows Death — brother of War and most feared of the Horseman– as he tries to absolve War's alleged crimes while the events of the first Darksiders are currently going on. The long and perilous quest leads the Pale Rider on a remarkable journey where he must perform the opposite task than he's accustomed to: bring life back from the dead.
HOT
Death is Swift
One of the most drastic changes from the previous entry is that Darksider II's protagonist, Death, plays and handles much differently than the unstoppable force, War. Unlike his brother, Death is agile and relies on dodging to avoid taking damage; blocking is not an option here. Players must take on a more proactive role during fights as movement is key in these battles. Thanks to the speed of Death and the quick slashes from his dual-wielded scythes, we end up with a character that has more of a rogue-like build; although Death is perfectly capable of wielding weapons that rival that of War's sword thanks to the new loot system, but more on that later. Death's iconic scythe is always at his side, but his secondary attack comes from whatever other weapon he has chosen to equip. These can range from the hard-hitting, slow-swinging hammers to lightning-fast gauntlets. Death's combat capabilities are much more diverse than War's and the increase in combat depth is quite welcome. In a second, Death can switch from twirling scythes around him at blinding speed to bringing the business end of an oversized axe down upon an unfortunate enemy's head. The varied styles that Death takes into battle is rewarding and, with plenty of new moves to purchase and an all-powerful Reaper form, is easily adaptable for the several types of enemies found along the journey.
This Horseman's agility is put on display outside of battle as well. Death can run up/alongside walls (Prince of Persia style), leap to and from pillars with ease and perform various other acrobatics to traverse the many lands he crosses. This creates a much different platforming experience than we saw in 2010 and it allows players to move steadily throughout the many areas contained within the game, resulting in the inability for boredom to take hold.
More RPG Than Action-Adventure
The first Darksiders was very much an action-adventure game. Darksiders II has changed the formula a bit and the end result feels more like an RPG. Death is now able to level up throughout the game by earning experience. Upon leveling up, skill points are awarded. These skill points can be placed in one of two skills trees — Harbinger and Necromancer. Each skill tree provides its own unique set of abilities that players can invest in to customize Death to their personal play style. For example, Teleport Smash is the first option in the Harbinger Tree. Death can deal damage to opponents by teleporting through them and will appear behind the enemy, setting Death up for further attacks. The game allows further enhancements to these powers by either leveling up the ability (a maximum of three times) or by investing more points in to complimentary abilities. Immolation will start accepting skill points after Teleport Smash has been unlocked and will augment the move with fire damage. On the Necromancer side of things, Death can learn to call upon a flock of deadly crows and can even outfit the group of birds with healing attributes and ice damage. The abundance of powers and handful of possible alterations forces the player to really analyze their current needs so they can figure out where to allocate that invaluable skill point.
Further dipping into the RPG side of things, Vigil Games has added one of the genre's most iconic features: loot. Loot sits inside hidden (some not so much) chests and breakable objects. Approach these chests and Death's reaper form will tear the lid right off of them, causing a cascade of items to come flying out and onto the ground. You'll get used to seeing piles of gold and color-coated weapons — a color-based system was implemented much like Borderlands — litter the area around Death's feet, and it never gets old. Taking out a tough opponent and watching a pair of scythes illuminated by a blue aura is always exciting. One of the best features is that the player isn't required to pick up the items to see if they are worth hauling. Numbers will appear above the weapon/armor showing attributes either in red (worse than the currently equipped item) or green (better than the currently equipped item). However, I found it easier to enable Auto Collect and amass large quantities of loot to sift through between dungeons. Sure, I ended up with a lot of junk over the course of the game, but I always had plenty to sell to obtain the items I really wanted. Also, regarding armor, due to its ability to change stats, collecting shards is no longer necessary to increase health or wrath.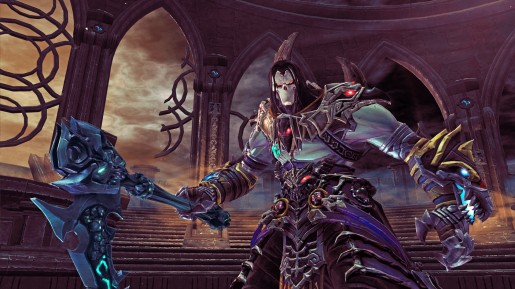 For those of you who played the first title, you may be surprised at just how much time you spend in the menus this time around. With all the available skills (and the option to respec) and constant flow of armor/weapons, players will find themselves weighing the pros and cons of new equipment as they decide whether or not to switch. Instances such as this can turn a harmless scroll through your obtained treasures after a dungeon into a twenty minute task, and I'm not saying that's a bad thing.
Possessed Weapons
Although this falls under the category "loot", it deserved its own section. Possessed weapons are a special type of item that Death will come across during his journey. These red-highlighted weapons are able to "eat" other weapons and armor to boost their own stats. For example, "feeding" armor to a possessed weapon can add a Resistance or Strength rating, providing defensive aid from an offensive item. Let the possessed weapon absorb other weapons and it'll see increased Critical Strike percentages and/or elemental damage. It's a unique upgrade system and one that makes players rethink selling everything they come across.
Darksiders II Review

,