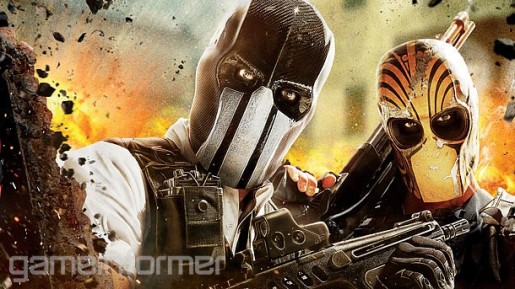 More than two years after the last Army of Two game released and EA is finally ready to reveal the next entry in the third-person, co-op franchise. And, no, it's not Army of Four.
Army of Two: The Devil's Cartel "resets" the series and replaces Salem and Rios with the more generically-named Alpha and Bravo. Further changing things up from the last entry, EA Montreal is no longer behind the game. Visceral Games, known for their popular franchise Dead Space, is now developing the cooperative shooter. Even better, the new entry will receive a destructive boost from DICE's Frostbite 2 Engine.
Here's the official announcement:
We wanted to refresh the Army of TWO franchise for a new generation of action gamers, and at the same time, stay true to the core concept that really made the first two games fan favorites. With meaningful, seamless co-op gameplay at its core and explosive new tag-team features, gamers will have to work together tactically and strategically as they push through a city dominated by one of Mexico's deadliest drug cartels.
Be sure to check out the GameInformer Coverage video below to see what's in store for Alpha and Bravo. Also, there is mention of explaining what happens Salem and Rios during the course of the game. Enjoy.
Army of Two: The Devil's Cartel is expected to launch in March 2013 on PlayStation 3 and Xbox 360.