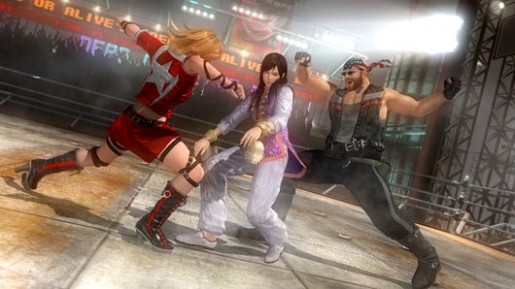 Team Ninja has shared some more details about Dead or Alive 5's tag mode.
The following was posted on the official Dead or Alive facebook page:
"We've really tried to design Tag Mode gameplay more for playing against other people. So it's closer to DOA4 than DOAD. The main addition to Tag Mode is the Tag Power Blow. If both tag team members have less than half their life remaining, you can tag your partner in during a Power Blow. They partner who's tagged in will continue with their own Power Blow. You switch characters before the first character lands the Power Blow, so it does less damage than two separate Power Blows. But you can still do a lot of damage in one hit. Once you land a Power Blow, you can't trigger another for that round, so it's up to you to judge the right time to use them. You don't get the chance to do Tag Power Blows very often, though, so I tend do go for it when both life gauges light up… BUT! The tag combo is still gonna be how people do the most damage. I'm really looking forward to seeing all the new tag combos that players come up with. The characters also have more tag throws as well as tag entrance and victory animations.
We weren't able to show much right now, but we're definitely putting in tag pairings that fans will get into! There are some character combinations that just gotta go in!
There are a couple of mysterious masked wrestlers in the video we put up. DOA fans should be able to tell one of them right away. That's a new costume for La Mariposa.
I can't talk about who she really is, but I can say that there's a beautiful face behind that mask. The other masked wrestler is Mr. Strong! And there's a reason he's keeping his identity a secret. His secret will be revealed one day, though, so try to go easy on all the "It's gotta be X!" comments. We also released some screenshots of Training Mode, so I'll talk a little about how we've powered it up too.
I play tons of online and training. So I've put in (almost) all of the features I wanted. (I probably tortured some programmers in the process, but it was for a good cause. :) Stuff like a network speed simulator to train for online fights, player control of the training opponent, and input recording.
We also added options for tech rolls, stagger escape speed and Critical Hold speed, so you can look for guaranteed combos. These features are really handy for my balance checks, so I'm sure other players will like having them to tweak.
It's a lot of fun to look for combos during development, and I guess this is a special privilege that only developers get. Once someone starts looking for combos, they really get into it. (But fixing things when you find an overpowered combo is a LOT of work…)
Team NINJA"
Dead or Alive 5 is out September 25th in North America and September 28th in Europe for the PS3 and Xbox 360.