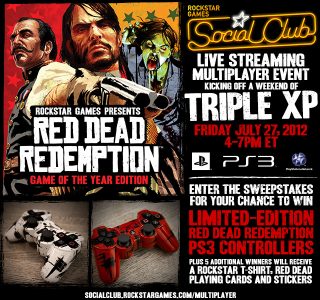 Is Red Dead Redemption still a part of your video game collection? It really should be, but the point of this post isn't to recommend which games to buy. For those of you that have managed to hold on to Red Dead Redemption, Rockstar is holding a triple XP event tomorrow on the PlayStation Network (Sorry Xbox 360 owners).
The game's core multiplayer and Undead Nightmare expansion will enjoy the 3x boost starting at 4PM EDT. You'll want to hop online as quickly as possible since the XP event only lasts 3 hours. It will definitely be worth your while though because the game's devs will be running around the virtual wild west with everyone online.
Be sure to add the following PSN IDs to your friends list:
RedDeadDev3
RedDeadDev4
RedDeadDev5
RedDeadDev6

For more instructions on how to saddle up alongside the developers and enter Rockstar's sweepstakes, click here.