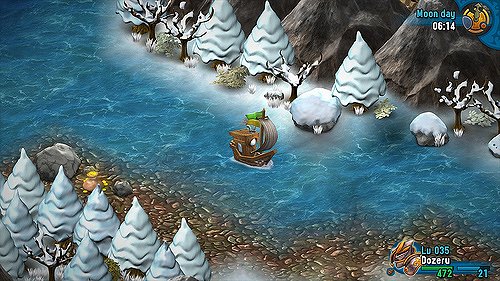 Not
Level-Grinding Gets Repetitive
The main thing you will be doing in Rainbow Moon is facing a lot of the same enemies in the same areas. This becomes almost mandatory because enemies get progressively harder at quite a fast pace. The difficulty progression rises quite rapidly and this may be difficult for some gamers. I remember easily killing enemies in one area, but once I entered a new dungeon, I got killed instantly. This happens quite frequently in this game. The difficulty curve isn't too much of a bad thing, it's just all the leveling up can be tiresome to do…
Annoying Hunger Meter Included
Normally in RPG games, you have to look out for your 'Hit Points" meter and your "Magic Points" meter. Rainbow Moon adds one more thing that you have to look out for and that's a character's "Hunger Meter". It works similar to Metal Gear Solid 3 where you had to feed Snake with food to satisfy his stomach. In this game, the hunger meter depletes quite often because you need to fight so many enemies at one time. It can get annoying because I'd prefer to save my money on more important things like armor, weapons, potions and other items. In this game however, I had to spend quite a bit of money on food and water bottles all the time. This became even more annoying if I wasn't near a merchant.
Verdict
Rainbow Moon is a highly enjoyable RPG game that will appease even the most hardcore RPG fanatic. If you are a fan of old-school style RPG games, you will absolutely fall in love with both the game's presentation and gameplay. There's hours of gameplay that is available here so this is a game that can be enjoyed for many months. Despite some annoying aspects of the game such as the need to eat all the time and leveling up in dungeons, these don't affect the overall fun factor of the game.
[Editor's Note: Rainbow Moon was reviewed on the PS3 platform. The game was provided to us by the publisher for review purposes.]
Rainbow Moon Review

,