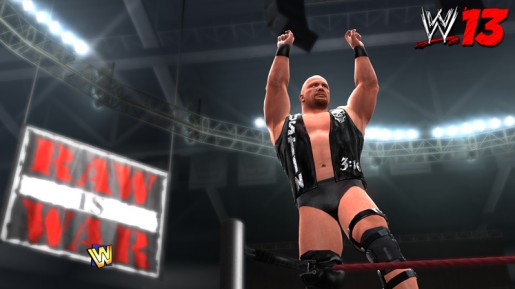 There will be two slightly different character models in WWE '13 for Stone Cold Steve Austin this year.
Cory Ledesma announced on twitter:
"We have both variations of Stone Cold Steve Austin in the game for those that keep asking. One knee brace version and two knee braces ‪#WWE13‬"
He went on to tweet an update on this:
"My last tweet about Stone Cold was for an alt attire. It didn't replace another Superstar model. It's easy to add a 2nd knee brace guys…"
This is just a minor adjustment, although some fans will be happy to know about this. Stone Cold Steve Austin has had a history of knee problems which is why he needs to wear knee braces. He went from wearing one knee brace to two knee braces as his knees were hurting very bad.
Along with his neck injury, Stone Cold's knees were also major factors as to why he retired so early from in-ring competition. Nevertheless, WWE fans can play as him forever in video game form in WWE '13.