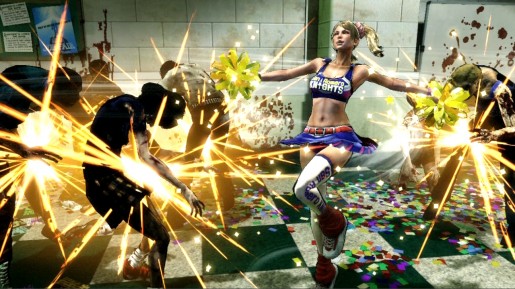 Replayability
After completing the seven stages in the game, including the prologue, you will have an opportunity to replay the game and get higher scores. For those who have played arcade games, you will feel right at home with Lollipop Chainsaw as it has the arcade feel. Every enemy that you beat and things you do within a stage will give you a score. Depending on the amount of points that you get at the end of the stage, you can see yourself on the top of leaderboard. If the score is low, you can replay it to get a higher score. Also, Lollipop Chainsaw has a lot of things that you can collect, thus if you are a completionist, you will find yourself playing the game more than once, especially if you want the good ending where you will need to save all of your classmates at every stage.
Variety of Things to Do
Aside from slashing zombies head and bodies, there are other ways to kill zombies that you'll be able to do in the game. Things such as shooting enemies using the upgraded chainsaw, to a tractor where you can run through enemies, Lollipop Chainsaw has a lot of ways to keep the fans entertained. If you love doing quick time events, you'll find them here as well but it won't be as hard as the ones in other games that are fast. Pretty much, there are a lot of mini-games within the game for everyone to enjoy.
NOT
A Shallow & Uninspired Gameplay
Lollipop Chainsaw can be a great game if it weren't for its shallow gameplay. While there are other ways that you can do to kill zombies at a certain point, you'll spend most of the time doing the same pompom and chainsaw attacks all the time. Combos are so limited in the game that playing non-stop will put you to sleep. Since the game will keep introducing you to a new savvy way to kill zombies and bosses, you will find it not enough and wanting for more. Playing through the game from start to finish will require a lot of tolerance to its gameplay as for the most of the time, it will be shallow, repetitive and annoying. There are ways within the game where you can upgrade Juliet's combos, but you will find it still monotonous. Since gameplay is a big part of the game, it clearly drags the game down by a whole margin.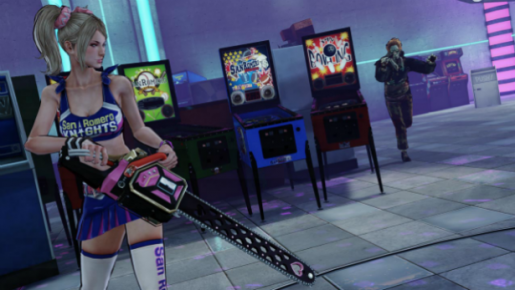 Short Game
When it comes to action games, the acceptable length is around eight to twelve hours. In the case of Lollipop Chainsaw, you can expect to finish it around in five to six hours, depending on how proficient you are. Despite the seven stages in the game, finishing each of them won't take long and paying a full price tag on it will not be worth it at all.
VERDICT
Everything about Lollipop Chainsaw is something fans of Suda 51's game will enjoy. The funny and witty storyline that it delivers remains true to what Grasshopper is known to do. Playing through the seven stages is indeed fun but the game will drag you down on its shallow and uninspired gameplay. While the game tries to deliver a variety of ways for Juliet to attack, you'll always have that feeling that you want something more but it all ends too quickly.
[ Editor's Note: Lollipop Chainsaw was reviewed on the Xbox 360 platform. The game was provided to us by the publisher for review purposes.]
Lollipop Chainsaw Review

,