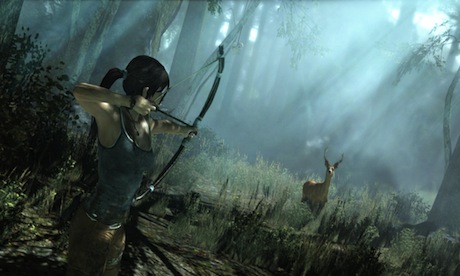 Tomb Raider left us at E3 last year wondering how Lara would continue her journey after escaping from the cave and its insane inhabitants. We saw Lara as she struggled for survival in unfamiliar territory. E3 2012 has shed some new light on the situation and delved even further into the struggle that Laura will have to face in this reboot. To start it off, the demo picked up right where the demo from last year left off. Lara has just exited the cave and is now making her way trying to find some other survivors from the boat that she was on.
The first thing you notice when watching Lara is how fluid her motions are. Jumping and climbing look much smoother and more believable than what we have seen from Nathan Drake in the Uncharted series. The second thing we notice is that she uses her vast knowledge in order to survive in this unknown land. After Lara retrieves a bow from a corpse in a tree, she uses it to hunt the local animals to receive meat to stay alive. This shows that players will need to utilize real life survival skills if they want to make it through this adventure alive.
Lara eventually runs across a friend of hers in the company of an unknown man. She is quick to trust and it turns out that he is more in the business of looting than staying alive. He takes Lara's friend hostage and as Lara pursues she is caught in a bear trap and forced to hold her own against a pack of wolves hungry for her flesh. She is eventually rescued by another group of survivors who head off to find the kidnapped girl.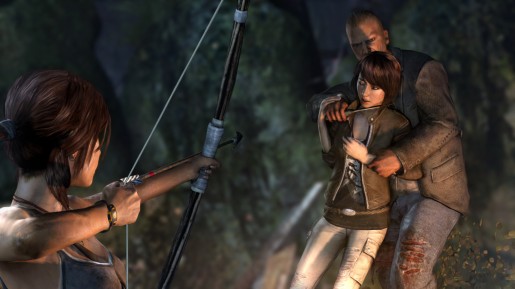 After Lara recovers she sets off to survey the surroundings to find out more about the area she is in. Her and a colleague soon run into some ruins that seem uninhabited. After entering they run into a group of men who say their friends are in trouble. Lara is quick not to trust these men after her previous encounter with the kidnapper. She turned out to be right when the men quickly over powered the two and took them hostage. This turned into a desperate escape where Lara had to sneak past the guys patrolling the area. She was eventually discovered and a struggle for her life followed after. A QTE was initiated where Lara fought to take the gun from the mans hands. The demo ended with Lara pushing the gun back under his chin during the struggle and pulling the trigger, resulting in her first human kill.
That was one of the most powerful scenes that has been shown in the game so far. Lara has to struggle with the fact that she has just taken the life of another human and come to terms that this is what must be done in order to survive. Tomb Raider will have the player utilizing the environment in order to upgrade equipment and survival skills sp that she can have a shot at making it through this nightmare alive. We will see how this adventure turns out when the game releases early next year for the Playstation 3 and Xbox 360.