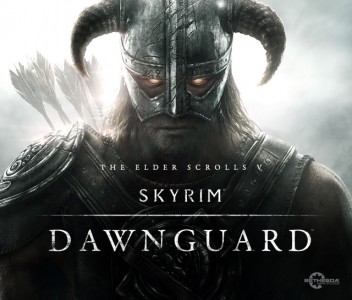 After several stability patches, gameplay tweaks and new combat features, Bethesda is just about ready to release their first add-on for Skyrim, Dawnguard. Just like the game, the DLC is huge. So much in fact, that it's being considered a full-fledged expansion, a term that hasn't been heard by console gamers in some time. Dawnguard focuses on the battle between the Dawnguard, a group of vampire hunters, and leader of the vampires, Harkon. The player is free to choose a side, which will result in completely different 10-20 hour experiences.
My demo kicked off with the Dovahkiin several hours into the Vampirc Lords quest line taking on a quest called "Chasing Echoes" where the objective involves helping fellow vampire, Serana, locate her mother. The two travel into an area of Oblivion known as the Soul Cairn. Here I was able to test out the new crossbow weapon and the Vampire Lord form. The crossbow is a very powerful alternative to the bow, but its lengthy reload time makes it a gamble in hectic battles. The Vampire Lord power is even more useful and powerful. Switching to this winged beast opens up a new set of abilities and forces the third-person view, just like the werewolf. The powers are so diverse and each one is as epic as the last. Vampiric Grip has a force grip effect, Night Cloak surrounds the player with deadly bats, Mist Form transforms the player into an untouchable mass of mist and Summon Gargoyle, well, summons a gargoyle. The abundance of power is felt consistently while in this form. It's also worth noting that you can exit the Vampire Lord form at any time, unlike the werewolf.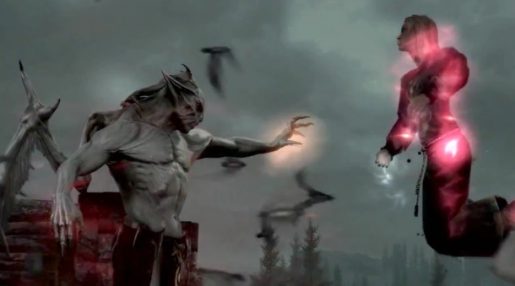 Shortly after taking my vampire into the Soul Cairn, I ran into undead opposition. The skeletons were no match for the intense abilities of my heavy-hitting vampire, thanks to the new dedicated skill tree that the devs were nice enough to upgrade halfway. Sure, you can still sprint, but why limit yourself to the ground when you can use those wings to fly about (you can't actually ascend and descend). All opposition met a quick death at the grey hands of the Dragonborn vampire.
The remainder of my time was spent testing the limits of the newest player transformation and it breathed new life into the title, and is sure to do so for those well past the 100+ hour mark. It all came to an end a bit fast, but it was entertaining, to say the least. Teaming up with or destroying the all-powerful Harkon, gaining the new mount Arvak (sorry Shadowmere, you've been replaced) and filling up the new skill trees, werewolf and vampire, are all sure to provide Skyrim fans with an exceptional new adventure.