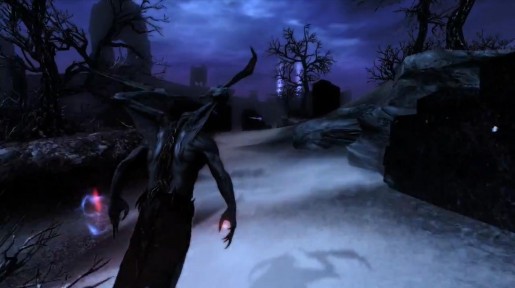 I greatly enjoyed my time with Dawnguard during my hands-on preview, but it was hard to ignore the glitches that impeded my progress. At one point, the "Chasing Echoes" quest refused to update because Serena would not progress in a conversation with her mother. The subtitle "Mother!" remained on-screen, although no one was actually saying anything. Due to this, I had to reload from an earlier save.
I thought to myself, "I'm sure it was just a one-time thing", even though Skyrim's track record clearly stated the opposite. Upon reaching the same area in the mission, the audio level of all dialogue from Serena and her mother that was directed at the Dovahkiin dropped to an inaudible whisper. However, when Serena and her mother chatted with each other, their voices were perfectly normal. Fortunately, the subtitles kept me from becoming lost in the mission.
The developer overlooking my playthrough claimed that the issue hadn't been seen before and that the team would definitely look into the problem if it persists. I would have expected this from the PS3 version given its past problems, but the preview took place on the Xbox 360, a version considered to be far more stable. It seems we will have to wait for the expansion's retail release to find out (or possibly Xbox 360 beta feedback) to find out of the issues are widespread.