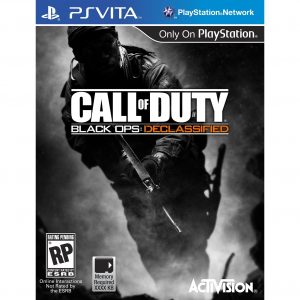 Those who have a PlayStation Vita and been waiting for more information on the upcoming Call of Duty game for the handheld, we got the first details right here.
According to Walmart's listing of the game, Black Ops Declassified will carry the retail price of $49.99, which now becomes the second game to carry the $50 price tag. Based on the excerpt released, it looks like that Declassified will have a series of Special Ops mission and a Multiplayer portion. Since the game will have a mission-based story, gamers can most likely expect Declassified to be similar to Zipper Interactive's Unit 13. As for the multiplayer portion, who knows if it will be like Resistance Burning Skies.
Here's the full excerpt:
Before the future could be won, history had to be written. Exposing that story exclusively on PlayStation Vita, Call of Duty: Black Ops Declassified explores original fiction in the Call of Duty Black Ops universe with an all-new campaign of Special Ops missions. Optimized for gamers on-the-go, Call of Duty Black Ops: Declassified delivers the most intense handheld Call of Duty experience to date, including both Special Ops Story mode and Multiplayer combat tailored for the PS Vita.
Let's wait for Activision and whoever is behind the game to officially unveil the details soon. For now, I already lost my faith on Declassified – I was hoping it will have a campaign like the console version does.