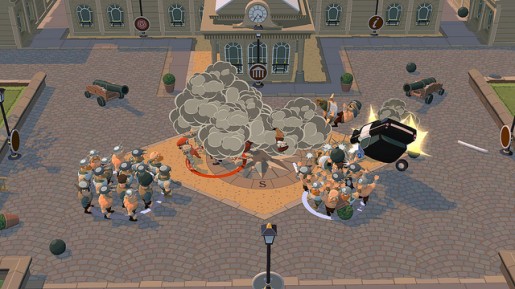 Although many are quick to complain that the Playstation Vita doesn't have enough games, Sony is secretly working on games for it, and revealing them on a regular basis. Today, we get to see what happens When Vikings Attack. This newly announced game by XDev finds Vikings from 1200 years ago invading and attacking your town, and you'll have to defend it and fight them off.
When Vikings Attack will also feature quite extensive cross play features. Neil McPhillips detailed this point by saying:
All gameplay modes can be played between PS Vita and PS3 in pretty much any combination you can imagine: two PS3s and two Vitas or one PS3 and three Vitas or one PS3 with three players and one Vita… I could go on but let's just say you can have four players in any combination of systems you want.
As well as being able to play with others no matter PS3 or PS Vita, both versions of the game game will also feature cross-platform saving. Like with some previous PS3/Vita titles, you will be able to pick up where you left off on your Vita or PS3 as you please so you will never have to put down When Vikings Attack. Interested? Well sure you are; have a look at the reveal video/interview below.
Currently all that is known of a release date for the game is simply some point this year. For those that are interested in this, a great buying point is also that if you buy one version, you will get the other for free. Looks good? Looks bad? Let us know what you think in the comments.