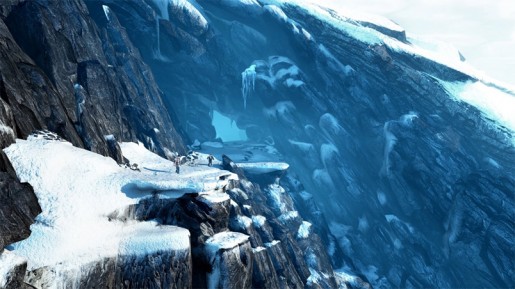 Ever wanted to go on a journey with famed fortune hunter Nathan Drake, but didn't want to take a journey to your local game store? Well now you can! Long after original release, both Uncharted games will be making their way to the Playstation Store, and will be available for digital download. This follows the recent news of the Dead Island Game of the Year Edition, which will be releasing on the same day as these two digitized games: June 26. Uncharted: Drake's Deception is an excellent title that came about a year after the release of the PS3. Its beautiful graphics and excellent story shocked many, and made believers in gamers worldwide.
In Uncharted: Drakes Fortune, a 400-year-old clue in the coffin of explorer Sir Francis Drake leads Nathan Drake on a wild adventure to a forgotten island in the middle of the Pacific Ocean. Here Drake hunts for the fabled treasure of El Dorado. Learn the backstory of the colorful cast of UNCHARTED characters and the ancient secrets El Dorado hides.
Naughty Dog then followed up Drake's Fortune with the even more amazing Uncharted 2: Among Thieves. Skeptical about picking up Uncharted 2 for some reason? We actually scored it a 10 when it was reviewed, which is quite excellent.
Uncharted 2: Among Thieves Game of the Year Edition is the winner of over 200 Game of the Year awards, and one of the most highly acclaimed video games of all time. In this sequel, Drake is drawn back into the treacherous world of thieves and treasure-seekers. A mystery artifact propels him to undertake an expedition to the legendary Himalayan valley of Shambhala where he finds himself embroiled in a dangerous game of cat-and-mouse against a fugitive war criminal. Pushed to his limits, Drake is forced to risk everything.
If you're planning on buying Uncharted 2, or already have it for that matter, don't forget to pick up all of the available free downloadable content while it's available until June 26! For those buying it digitally, the download is planned to be Uncharted 2's Game of the Year Edition, so it should already have all of the DLC, but feel free to download it separately just in case. Hopefully both of the games will be reasonably priced, and not too crazy like some PSN retail releases have been. Better late than never if you still have yet to play either of these excellent games!