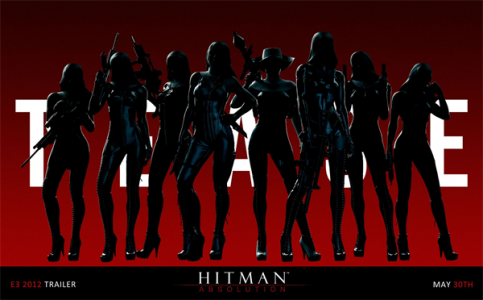 Square Enix has released an E3 teaser image for Hitman: Absolution, but Agent 47 isn't the shadowy figure on display this time. Instead, a lineup of weapon-wielding silhouettes stand side by side in front of the word "TEASE".
The most interesting aspect of this picture is the fact that every assassin is a woman. This has led some to believe that the multiplayer may revolve around an all-female set of characters for players to choose from and possibly customize. That would be a very interesting and different approach for online multiplayer.
Last year, Hakan Abrak, lead producer, stated during an interview that the team was working on something "very, very interesting… on the online side" for Hitman: Absolution. Assuming the speculation turns out to be correct, what are your thoughts concerning the latest Hitman game getting the multiplayer treatment? Will it be another uninspired add-on that will be ignored by all or an innovative creation that will steal us away for weeks on end?