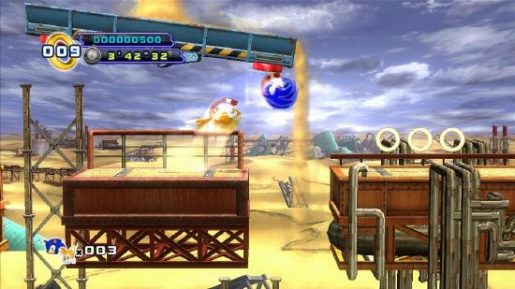 This generation we've seen a number of reboots, though many fell short. This was definitely the case with Sonic the Hedgehog 4 Episode 1, which tried way too hard to recapture the original experience. Fixing many of the obvious problems, Sega gave it another go with the release of Sonic the Hedgehog 4 Episode 2. With Tails back in action and many throwbacks to the iconic Sonic the Hedgehog 2, can Sonic the Hedgehog 4 Episode 2 bring Sonic back to life or should they have stopped at Episode 1?
Let's look at what's HOT and what's NOT in our review of Sonic the Hedgehog 4 Episode 2.
HOT
Rewards Episode 1 Buyers
If you played Sonic the Hedgehog 4 Episode 1, then you'll be rewarded with an extra set of stages. These stages pretty much retelling of Episode 1, so each stage is a reference to a world found there. Beyond that you also get to control Metal Sonic, so it's a pretty cool bonus. Additionally these stages appear to be exclusive to Episode 1 players, so they're far more than just an early unlock.
Learned From Sonic Generations
Sonic the Hedgehog 4 Episode 1 had a number of fatal flaws. These include recycled enemies, designs, sounds, stages, elements, really it felt like the game was trying to be Sonic 1 and failed to do so. Realizing this error, Episode 2 feels more inspired by Sonic 2, than actually trying to be the same game. For instance the oil level makes use of desert winds, which makes moving easier or harder depending on which way it's blowing. However, it also tries to retain iconic elements like the special stages, Death Egg zone and yes there is even a stage where you ride on top of the Tornado (Tails Plane).
While Episode 2 is clearly inspired by Sonic the Hedgehog 2, it also tries to add new elements. The biggest addition is the ability to do 'partner skills', which allow you to get a flight boost from Tails or the choice to do a super spin dash with him. These elements are required the beat the game and almost every boss utilize them in some way. Due to this they can get annoying; especially in multiplayer, but they do offer different ways to transverse each level.
Sonic 4 Episode 2 Review

,