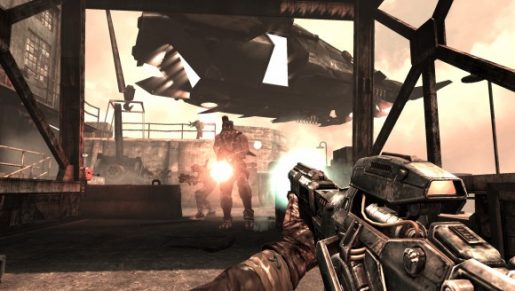 The final boss in Resistance: Burning Skies can be tricky if you don't adopt the right tactics and use the right weapon. Here is some helpful advice to make life a lot less frustrating for you.
The final boss in this game can be a real pain if you don't stand in the correct position and use the wrong weapons against him. I died several times and could never beat him. Thankfully, a fellow reviewer from NZGamer.com found a great way to beat him. I listened to his advice and I finally beat him.
Here's what you should do:
• Stand by the door to avoid the boss squashing you with his large hands.
• Only shoot the bombs when they light up bright red. You will waste precious ammo if you shoot them anytime else.
• Use the "Mauler" (which is the minigun) against the boss only. Any other weapon will prove to be ineffective against him. Even the rocket launcher missed him!
• Be patient when shooting the third bomb on his right shoulder. Don't be tempted to run away from the door or else he'll squash you like a bug.
• Once you have shot three bombs, the second part of the battle starts. Be careful here as there are no checkpoints during this battle.
• During this phase of the battle, you NEED to shoot the final three bombs on his body using the "Mauler" instantly when you have the chance. If you miss your chance, he'll squash you forcing you to start the battle all over again.
• In this phase, you need to be accurate with your shots.
Failure to shoot the bombs of his body in one go will result in instant death.
We hope this proves to be a helpful tactic in order for you to take down the tough final boss in Resistance: Burning Skies. Trust me, before I talked to my friend about it, I was stuck on this boss for days.
If you've adopted a different strategy to beat this boss, let us know in the comments section below.