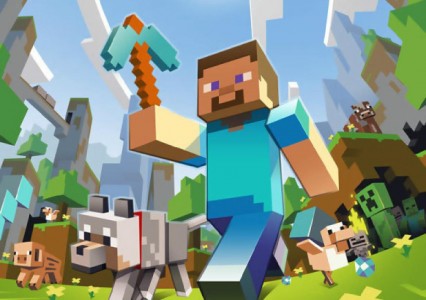 For a game that looks rather simple, it's surprising to see Minecraft pulling in millions of people on the PC version. The blocky visuals that appear very much old school contain something that makes it too awesome for anyone to pass up. Specifically, the use of blocks everywhere in building houses and other various structures. With so much demand for a console version of Minecraft, 4J Studios listened to the overwhelming response from the fans and decided to bring it to the Xbox 360.
With the ability to put players' imagination to the test and build their own journey block by block, does Minecraft on the Xbox 360 live up to the PC counterpart? Let's take a look at what's HOT and what's NOT.
HOT
Sandbox Gameplay With the Ability to Create Stuff from Blocks
For those who haven't heard of Minecraft, or only seen the screenshots and videos, a player might get the impression that it is a game of poor quality due to its retro look and presentation. The moment I started playing the game, I was put right in the middle of nowhere. There is no story involved in why you're there or how you got there. With an open world waiting for you, you may find yourself confused because you just don't know what to do. Within the world of Minecraft, you are there to explore the lego-land world where you have the ability to create stuff using the blocks that are obtained from the environment. You must also survive the creepers or Zombies that roam the land at night.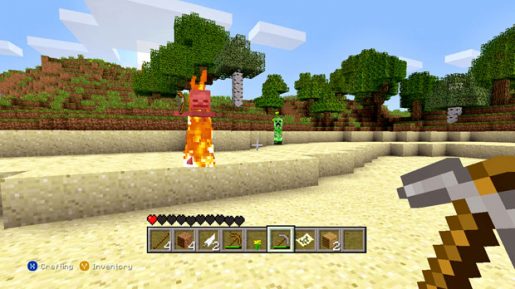 To go into more detail, Minecraft's objective is a mix of survival, putting your creation into the game and venturing through the world. At the start of the game, you'll find yourself near the beach. You'll see some tutorials which will teach you how to mine and get blocks for your creations. Using RT to mine, the blocks will turn into an item that you can pick up. With the blocks that you get, you can turn those into a palace or a world of your creation. The very first thing that you should put into your mind is to create your house because, when the night comes, creepers that explode and zombies will be hunting their first victims. If you're lucky and managed to create a house, you'll be safe from them.
In addition to simply building stuff, you will also have to rely on your survival skills. Since you're in the middle of nowhere, you will find animals that you can hunt and turn them into food. Well, for someone without nothing, crafting items will come into play. There are a plethora of things that you can make by simply exploring the island and gathering materials. Since you can't cook food without a furnace, you will have to craft it. Minecraft will give you the sense of how to survive by yourself and unlock your imaginative abilities. To hunt, you will need weapons and you'll have to craft them, too. These vary from spears to bows and arrows.
Console Controls Works Well
Porting a PC game to the console has a couple of risks that developers need to take into consideration and one of them is implementing the controls. Luckily, 4J studios did a remarkable job in providing controls that are easy for Xbox 360 owners to pick up. Since there will be no mouse pointer or anything of that sort, you will use the right stick to look around. As for selecting items for the hotkey panel on the screen, you can set it and highlight with the left and right bumpers. For mining, a simple hold of RT will make the character mine. There's no need to worry about the controls in this game as they just so happen to be well implemented.
Retro Look & Soothing Music
As I mentioned earlier, the visuals that Minecraft contains aren't really eye-candy. However, I must say that I loved it as it brings me back to the old games with its blocky design and the feeling of playing in the 8 or 16 bit era of gaming. The visuals of this game will not wow everyone, but it will give you a nostalgic feeling as you explore the island. Your first impression of this game when it comes to visuals is the similar look of the Lego world. Everything from the game's visuals, theme and soundtrack just feel right. In terms of soundtrack, each track is soothing and perfectly compliments the game's stranded/survival vibe.
Minecraft: Xbox 360 Edition Review

,