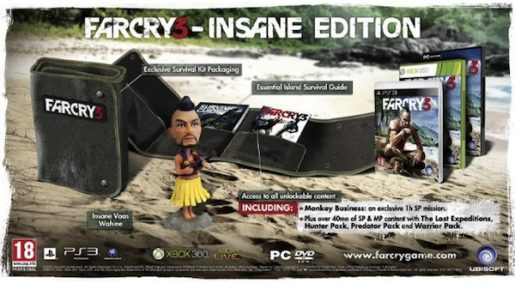 Ubisoft has announced that the Far Cry 3 Insane Edition will be heading to the UK when the game releases and will be packed to the brim with single and multiplayer content. At the moment, the Insane Edition is only slated for release in the UK with no word on whether it will ever see a United States release. Here is all of the content that this edition will come with:
-A 12cm Vaas Wahine with bobble head
-Monkey Business – Discover Hurk, a new memorable character and quest giver, and his four unique missions (one hour additional gameplay)
-The Lost Expeditions – Two suspenseful action packed missions totaling over 40 minutes of additional gameplay and an exclusive weapon (The Japanese gun)
-The Hunter Pack – The M700 hunting rifle and its three collector's skins
-The Warrior Pack – A handcrafted dagger and two exclusive tribal tattoos
-The Predator Pack – Four exclusive rare predators and a multiplayer bow
-An 'Insanity Guide' containing hints and tips to help you survive the island
There was no price point mentioned but, judging by the way things are priced nowadays I would guess that it will run you around 80-100 bucks. Far Cry 3 is set to release September 4 for the Playstation 3, Xbox 360 and PC.