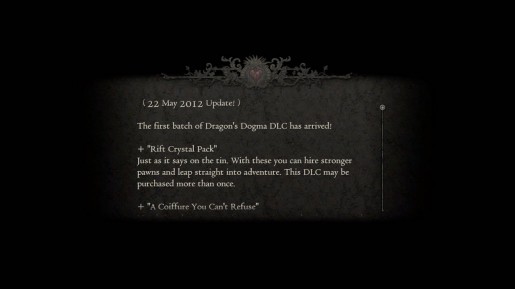 Gamers who will pick up Dragon's Dogma this midnight in the United States has something to look forward to when they connect to either Xbox Live or PlayStation Network. A notice with the list of DLC will appear just right before you start the new game.
Three DLCs will be available for download starting tomorrow:
– Rift Crystal Pack
With these, you can hire stronger pawns and leap straight into adventure.
– A Coiffure You Can't Refuse
New hairstyle to customize your Arisen and main pawn, with a special set of armor as an extra treat.
– From the Different Sky – Part 1
The first of a ten part series of additional quests. New quests will be available every week.
As mentioned in the notice, fans can look forward to a lot of downloadable contents. While everyone is still hesitant in picking Dragon's Dogma up, we have our review right here. Did we liked it? You bet we do but it's a hard game and not for everyone! More details on the review.