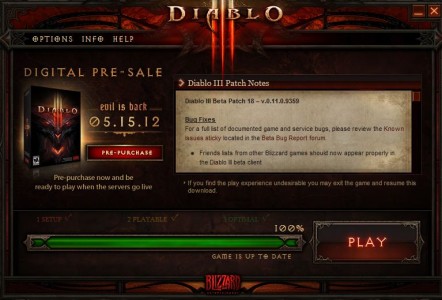 If you are playing Diablo 3 next week and you see a pop up window that gives you error 37 do not fret as there an easy way to fix that, says Blizzard in their launch day preparation guide for Diablo 3.
This guide covers everything from what to expect, how to prepare, and when you'll be able to begin installing and playing. Along the lines of what to expect you may see this error 37. It seems as if it's just a log in bug so just try again, and you should get in with no issues.
For those who plan on playing on the Americas servers, which includes U.S., Canada, Latin America, Australia, New Zealand, and South East Asia your servers will open at 12:01 a.m. PDT, May 15. Once the game is available in all servers global play will kick in.
Diablo 3 launches in just a week for PC and Mac. Stay tuned to Just Push Start for our review on the game.