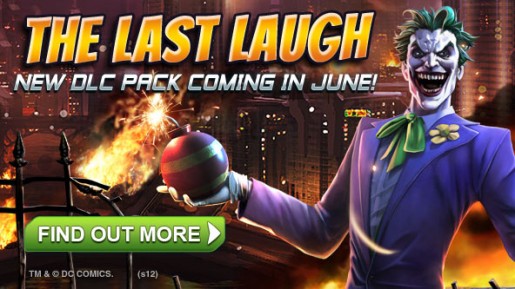 The fourth downloadable content for DC Universe Online has been revealed today and to those who are Legendary subscribers will be getting this for free.
The Last Laugh is the fourth downloadable content that SOE will be releasing for DC Universe Online this June. Similar with other DLC packs, this DLC will feature new weapons, new Light-Powered PVP Character Legends, and many more. Expect the infamous Joker to be the star on this pack as he haunts Metropolis and Gotham City with his evil scheme.
Here are the complete details that fans should expect for The Last Laugh. No definite release date has been revealed but it should be coming this June.
– The Shield – Players can unleash this vicious new weapon to bash their opponents, or hurl it to take them down from a distance.

– Safe House Battles – No one is safe now that heroes and villains can invade each other's Safe Houses in these four on four battles.

– Graviton Technology Recovery – Players will be tasked with unscrambling teleporter codes that The Joker has mixed into fragments. Located at the Watchtower or Hall of Doom, players must retrieve eight code fragments to successfully rebuild useable teleporter codes.

– The Rescue – Heroes must rescue hostages, while Villains will be freeing arrested criminals from opposing Safe Houses.

– Bomb Disposal – Thanks to The Joker, the encryption on the Email terminals has changed and can only be bypassed by the robot he provided. Players must gain control of the robot and either upload the data to their HQ or add new encryption to keep their enemies and The Joker away from it.

– Headquarter Battles – In this two-part crusade, 16 players – eight heroes and eight villains – will face off for the ultimate player reward. At the request of Superman, heroes must take over the Hall of Doom, while villains, egged on by The Joker, will breach the Watchtower in order to create chaos.

– Legends Characters – Combat illuminates with the introduction of the first light-powered Legends for multiplayer combat. Players will soon have access to Kilowog, a Green Lantern, and Amon Sur, a member of the Sinestro Corps.