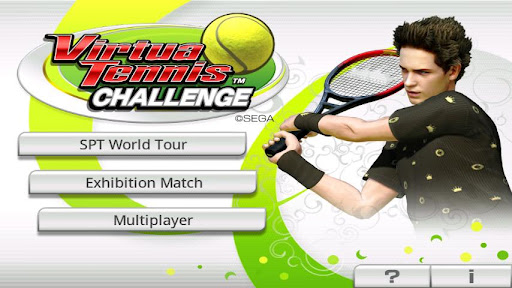 SEGA has today announced the release of Virtua Tennis Challenge on the App Store for iPhone, iPad and iPod touch and even more Android devices,.
iOS and Android users can face off against 50 players with unique strengths and play styles to unleash crushing topspin smashes, slice shots, and lobs. All 18 stadiums will also be open with a variety of clay, grass, and indoor courts, each with different ball movement physics.
There are also three new modes exclusive to iOS. Online Multiplayer allows champs to face off over WiFi, Quick Match Mode puts players in one-point singles challenges to increase rankings and win virtual prize money and Training mode prepares trainees for the big leagues by running through drills. Both iOS and Android, however, will have access to SPT World Tour mode for the full tennis career experience, and Exhibition Match mode to quickly dive into singles or doubles matches. All devices can link up via Bluetooth to play against friends.
Virtua Tennis Challenge is available on both the iTunes App Store and Google Play for just AUD$5.49.
With Roland Garros happening right now and Wimbledon just a few weeks away, it's the perfect time to get in the mood for a game of tennis.