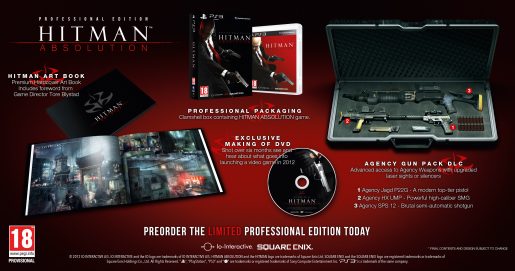 Square Enix Europe revealed a new edition for Hitman Absolution. PC, PlayStation 3 and Xbox 360 will all be receiving the Hitman Absolution Professional Edition.
Here are the contents of the newly unvieled item:
– Hitman Art Book: premium hardcover art book includes foreword from game director Tore Blystad
– Professional Packaging: clamshell box containing Hitman Absolution game
– Exclusive Making Of DVD: shot over six months see and hear about what goes into launching a video game in 2012
– Agency Gun Pack DLC: advanced access to agency weapons with upgraded laser sights or silencers
Agency Jagd P22G pistol - a modern top-tier pistol
Agency HX UMP SMG - powerful high-caliber SMG
Agency SPS 12 - brutal semi-automatic shotgun

During today's reveal, Square Enix Europe did not announce a price point or release date, but this isn't too surprising since the standard edition of the game is still without a projected release date as well.