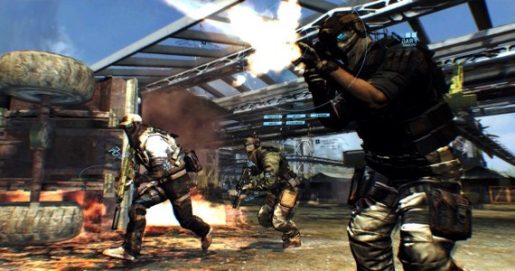 Ubisoft has announced Ghost Recon Network, a service that will be available for all future Ghost Recon titles. The service will launch the same day as Ghost Recon: Future Soldier, May 22nd, and will offer players different ways to connect with their game on-the-go.
Here are the key features:
Customize and share in-game weapons on the go
Use GunSmith mobile to customize weapons down to their inner parts in 3D and sync them to consoles
Publish weapons to the GunSmith Gallery and browse guns posted by the Ghost Recon Network community

Track player history and friends' in-game status
Access personal player performance on Ghost Recon: Future Soldier & upcoming Ghost Recon games and compare stats on leaderboards
Receive challenges, friend activity reports and community updates via the website or push notifications on smartphones and tablets

Receive exclusive rewards
Download the free Ghost Recon Network app at launch to unlock additional attachment credits in Ghost Recon: Future Soldier
Earn weapons and weapon skins in Ghost Recon: Future Soldier by playing other Ghost Recon games or interacting with other Ghost Recon experiences

Become a better player
Study detailed game information and heatmaps to prepare for the next battle
Build and manage your squad, add recruits and search for competing squads

Ghost Recon Network will be available for download as an app for smartphones and tablets or it can be accessed through the main website. This is starting to sound a lot like Call of Duty Elite, right? Well, there's one major way that this service differentiates itself from Call of Duty. Ghost Recon Network is completely FREE. That's right. You won't have to pay $50 a year to access all of this content. Even better, those who jump in on the beta will gain access to some Ghost Recon Network features on the website and through a beta app for Android.
Speaking of the beta, Ubisoft also revealed a ton of information on that subject. The beta will run from April 19th to May 2nd on Xbox 360 and PS3. One mode will be available from day one and it is called Conflict. Here, up to 12 players can jump in on a 15 minute match and help their team complete objectives. Starting April 26th, Saboteur mode will open up and the objective there is to locate the bomb and detonate it at the other team's base before the 10 minute timer runs up. Two maps will be available for both multiplayer modes: Pipeline and Mill.
Don't forget that not everyone can access the beta. For 360 owners, you must either own Splinter Cell Conviction (access beta through the main menu) or you have to pre-order the game for a beta code. PS3 players have to be subscribed to PS Plus in order to gain entry. If you can't complete any of these requirements, then you're best bet is to try your luck in one of the beta code giveaways happening online.