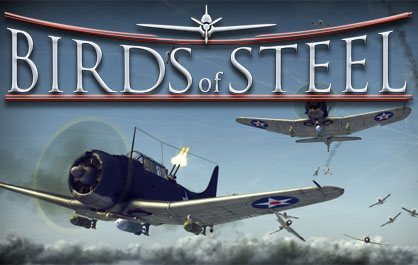 IL-2 Sturmovik: Birds of Prey was released back in 2009 and became one of the best flight games seen on consoles and was based around some of the most pivotal fights in World War II. It gave players a great flight experience and a slew of planes to take control of from WWII. Birds of Steel is the spiritual successor to IL-2 Sturmovik: Birds of Prey and looks to provide an experience that rivals that of its predecessor.
Birds of Steel is developed by Gaijin Entertainment, the same minds behind IL-2 Sturmovik: Birds of Prey. Can the game soar to new heights of success? Or does it fail to even make it off the ground? Here are the HOTs and NOTs of Birds of Steel.
HOT
Gameplay Tailored To Your Tastes
Probably the greatest thing about Birds of Steel is that you can customize the game to fit your tastes. Want to just fly around and have fun? Put on infinite ammo and fuel. Want the most realistic experience possible? Limit your fuel, ammo, flight controls and put yourself in the cockpit view. Gaijin really did an excellent job in making the game accessible to many different people, ranging from someone new to the flight scene to veterans who have many hours in a flight game. You can make the game as easy or as difficult as you feel comfortable with by changing it from a simplistic control system to a straight simulation.
Birds of Steel also offers a wide variety of modes and aircraft to provide for many hours of playability. The game offers players over 100 classic WWII planes and modes ranging from historical battles in history to a full on editor mode that lets you set the rules as to how the battle should play out. The different planes span everything from the US military to the German and Japanese planes that we have seen in the history books. You can also play the game online in a 16 player competitive or a 4 player cooperative. The coolest mode, however, is the one that allows you to play an alternate reality and change history in different battles.
Attention To Detail Makes The Game Believable
Gaijin Entertainment did an excellent job with the graphics and put a great deal of effort into making each and every plane look just like it did back during WWII. Every single plane looks fantastic inside and out and, when you put the camera into the cockpit, it feels like you are there looking at everything a pilot back then saw. The environments and visual effects are well done as well. Fighting over the Pacific, engaging the enemy and watching as you take them out one by one looks and feels satisfying, especially if you have mastered the simulation settings.
War Never Sounded So Beautiful
From your main guns going off to the explosions from a successful bombing run, it will be hard not to get immersed in the experience when the game sounds this great. The thumping of the machine guns makes every engagement sound awesome and the explosions all around you only add to the intensity of a heated moment. The game also includes a pleasant orchestral score to boot. The music blends well with the game and never really sounds out of place when you are flying through the skies fighting against the enemy for survival.
All Of This Content For $40
Birds of Steel offers you a slew of content for $20 less than a normal video game. The replayability is extremely high due to the numerous modes at your fingertips. The biggest reason that this game is so replayable is the mission editor. This mode allows you to customize everything you can possibly imagine, from the amount of fuel you have in your tank to whether you will be fighting over friendly, hostile or contested territories. You can even set how many planes will be in the sky at once, with the maximum being 100, making for some intense fights. The possibilities are endless and you won't have to pay an arm and a leg to access it all.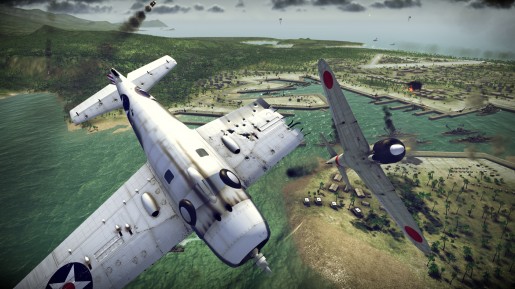 NOT
Radio Chatter Takes You Out Of The Experience
While most of the sound effects in the game are really well done and great to listen to, the radio chatter feels out of place and takes you out of the experience more than making you feel like you are in the middle of an aerial battle. You will more than often hear the same exact lines being repeated over and over again making you scramble for a way to turn it off just so you don't go insane from it.
Presentation Hasn't Changed Much
The presentation has not changed much since IL-2 Sturmovik: Birds of Prey was released back in 2009 and, while that is not a bad thing entirely, it would have been nice to see the game with a little more fire in its eye. The presentation as it is now works and is exceptional, but it is nothing revolutionary.
Verdict
Birds of Steel is a worthy follow up to 2009's IL-2 Sturmovik: Birds of Prey and will give fans of flight based games many hours of enjoyment. The excellent gameplay, close attention to detail and reasonable price point more than make up for the small blemishes you may come across during your time with the game. Long time fans will feel right at home with Birds of Steel and players who have been wanting to give it a shot now have a great game to get started with.
[Editor's Note: Birds of Steel was reviewed on the Playstation 3 platform. The game was provided to us by the publisher for review purposes.]
Birds of Steel Review

,