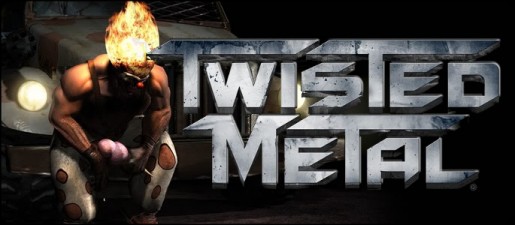 Twisted Metal has been a long time franchise for the PlayStation brand since its debut in 1995 for the PSOne console. Its destructive mix of violence and cars made it a popular hit that the franchise spawned many sequels from then on. Twisted Metal has now finally made its way onto the PS3. Is this new game something long term fans of the franchise will enjoy?
Find out the answer to this question and more as we take a look at the HOTs ans NOTs in our full review of Twisted Metal.
Hot
Destructive and Fun Gameplay
Its been over 11 long years since I played Twisted Metal: Black for the PlayStation 2. I wasn't sure what this new Twisted Metal game would have in store for me. After a brief yet informative tutorial teaching me all about the basics of the game, I became addicted to the game in no time.
Twisted Metal fans should not be disappointed about the new game changing its gameplay. This new addition to the series is just as additive as its many predecessors. It's all about obtaining as many weapons as possible for your vehicle and destroying all your opponents with them.
With many games now being first-person shooters, it's nice to play a game where you're not a soldier with a gun all the time. Twisted Metal offers something different because you can equip your vehicles with missiles, bombs guns and other deadly devices. With the amount of destruction you can create in this game, you're be sure to be addicted to this game for countless hours.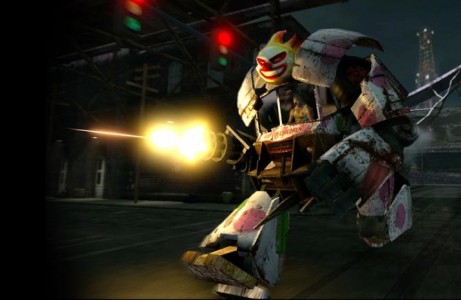 Tons of Vehicles
Cars are not the only thing you can drive in this game. There are a ton of different vehicles you can use that cater for all preferences. One of my favorites has to be the ice-cream truck that turns into a Transformer-like robot. In this mode, you can fly and throw bombs at your opponents. It can even run for a brief amount of time although it's much slower travelling this way. The other cool vehicle in this game is the helicopter. The helicopter has a magnet that you can use to pick up and drop your opponents. Not to mention it has a mini-gun on board too so you can really dish out some serious damage onto your enemies.
Crazy Boss Fights
There are three boss fights in total in the game's single player mode. The boss fights are lengthy and hard although they're very unique. The first boss fight you encounter is a tough battle against two monster trucks. Another boss battle you will have to fight against a huge anime-style robot! As aforementioned, the boss fights can be pretty hard but I appreciate the epic scale the designers of the game have put into them. They're not the clichéd boss fights where there is an easy pattern that you can exploit like in most other video game released these days…
Level Design
The level design in Twisted Metal is just as crazy as the boss fights. It's great to see that not all buildings in the game are indestructible as some of them you can just crash straight through them. This makes the game a little less frustrating to play as there's nothing worse than trying to avoid gunfire from your enemies just to crash into a brick wall. There are also ramps you can jump onto to access health and other collectibles along the way. These ramps are a great way to try and avoid vehicles that are relentlessly pursuing you. In some levels, there are even traps and moving obstacles in your path which keeps the game very unpredictable.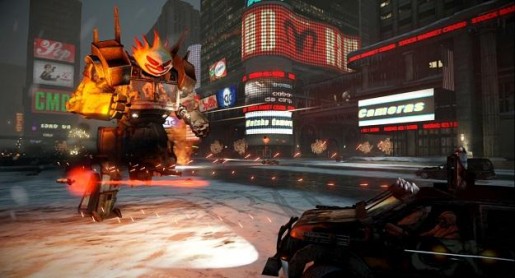 Co-Op Mode
Another great feature Twisted Metal includes is a co-op mode to the game's main story. Although the progress in the co-op is separate to the single player, it's great to play if you're finding it hard to complete the game by yourself. Twisted Metal offers no easy difficulty and the normal difficulty setting isn't a piece of cake in itself. It's good to see Twisted Metal including a splitscreen co-op feature since most games have abandoned the feature altogether in recent years…
Not
Outdated Graphics
Twisted Metal may be the best looking Twisted Metal game to date, although the game itself fails to look as great as many other PS3 games out there. If this game was released back in 2007 or 2008, the visuals may have looked good. For a game releasing in 2012, the graphics look outdated in comparison. Quite frankly, the likes of Wipeout 2048 and Uncharted: Golden Abyss on the PS Vita look more bright and vibrant than this game.
Gameplay Can Be Frustrating
There are many vehicles that are driving around in Twisted Metal at one time. This inevitably means that there can be a load of enemies trying to attack you all at once. What comes after this isn't very pretty. Sometimes I'll be trying to kill off one opponent and then another person will come from behind and ram me off course. Even if you're in the helicopter, this does not mean you can escape all the carnage so easily. Missiles can be shot at you from anywhere and you will lose health or even crash in a matter of seconds if you're unable to dodge them.
As aforementioned, the boss fights can be fun although some gamers will have a tough time trying to beat them. You can expect to retry the bosses many times as they're not the easiest thing to overcome. If you're getting too annoyed about the bosses in Twisted Metal, a guide from Youtube is a must if you don't want to go insane.
Verdict
Twisted Metal is a great new addition to the Twisted Metal franchise. Despite the game being frustrating at times and having simplistic graphics, the main thing Twisted Metal does offer is fun and additive gameplay. You don't have to play through the game's story to appreciate the mayhem this game offers. The multiplayer modes are more than enough to provide you with countless hours of destructive gameplay.
[Editor's Note: Twisted Metal was reviewed on the PlayStation 3 hardware. The game was provided to us by the publisher for review purposes.]
Twisted Metal Review

,