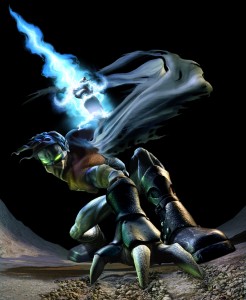 One of VG247's sources has informed them that a reboot of Soul Reaver — a game that had two entries in the Legacy of Kain series — is currently in the works. Crystal Dynamics, the ones responsible for the upcoming Tomb Raider reboot, are said to be behind this revival as well. It makes sense since the team has developed every Legacy of Kain game except the first entry, Blood Omen.
VG247 reported that the rumored title "is a full reworking of the vampire action classic, and includes a new art direction". Other than that little bit of information, details are scare. Actually, they are nonexistent. Originally, many speculated that this new Soul Reaver title would receive an E3 reveal, but now it seems that those rumors may be false. We may not hear anything on the title, assuming its real, until next year.
Since Kain and Raziel have been absent since the 2003 title Legacy of Kain: Definace, I'd say we're long overdue for another adventure starring the vampire-turned-wraith.