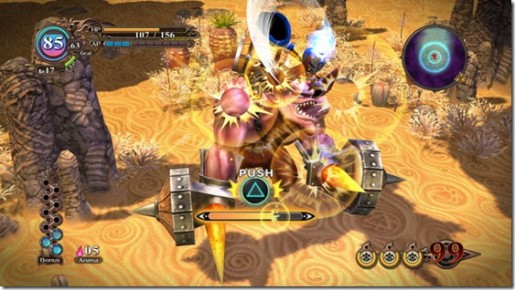 Yesterday, NIS America held a press event to announce the latest titles that they will be bringing in North America for the remainder of 2012.
While we know we have Atelier Meru Meru coming sometime this Spring, NIS America announced three more titles; The Witch & The Hundred Knights, Mugen Souls, and Legasista. All of these three new titles are slated for release sometime in 2012 and all of them are on the PS3 platform.
The Witch & The Hundred Knights – Q1 2013 (PS3 Only)
Two powerful witches have been battling one another for over a hundred years. Now, the Swamp Witch has unleashed the legendary Dark Knights, and seeks to destroy the Forest Witch once and for all!
Features
•A hundred knights at your command: A plethora of ways to utilize your 100-man team!
•Multiple weapons: Equip up to 5 weapons to maximize your combo abilities!
•Chain attacks: The higher you build your chain, the greater damage you will unleash!
•More details coming soon!
Mugen Souls – Fall 2012 (PS3 Only)
There exists a small galaxy in the universe containing seven worlds, shimmering in seven colors… These worlds exist and act independent of one another. This has allowed them to develop and nurture rich, unique cultures. Then one day, a decree was sent out… "I'm gonna make everything in each of these worlds bow to me!" – The Undisputed Goddess, Chou-Chou.
Features
•Expansive worlds to explore: Travel freely on each world to explore and find treasures and items. Monsters are roaming about, so be cautious or fight them head-on and make them your subservient peons!
•Free-roaming style battle maps: Use Combo attacks to execute spectacular moves with your allies! Destroy Crystals on the battlefield to activate Hyper mode!
•Moe Kill: Execute the Moe Kill technique to enslave enemies and turn them into items by exploiting their weaknesses!
•Customization: Create a full cast of characters! Customizable body parts, facial expressions, and job classes!
Legasista – August 2012 (PSN Only)
In a world where science has become a thing of the past, people have come to fear this ancient form of knowledge as magic spells and curses. Now a young man named Alto sets off for the mysterious Ivy Tower, which houses ancient relics of the lost art of science.
Features
•Dungeon crawler-style action RPG: Form a team of 3 characters to explore the dungeons of the Ivy Tower! Characters can easily switch in and out from the frontline to the backline.
•Randomly-generated dungeons: Explore different dungeons and cash in on the loot!
•Personalities: Create your own character, from job class to unique personalities! The personality will greatly change the character's fighting capabilities, so choose well!
•Customization: Customize your character fully with the character creation feature. Even weapons can be customized!