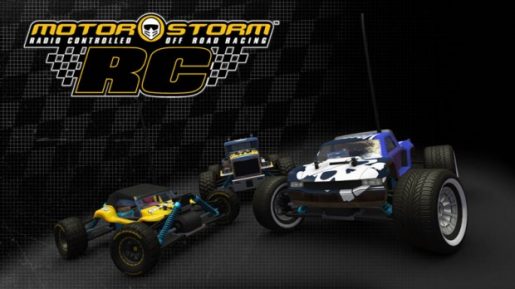 The MotorStorm series was born when the PS3 launched back in late 2006/early 2007. The first game in the series showed us what the (then) newly released PS3 console was capable of. Since then, the series has grown with two more games released on the PS3 and a spin-off for the PS2 and PSP. MotorStorm RC is the newest addition in the franchise but is unlike any other MotorStorm game you have ever played. This is because you are playing as small remote-controlled cars now!
Is this radical change in the series' direction going to deter long-term fans from playing this game? What's the differences between the PS3 and PS Vita version?
Find out as we take a look at the HOTs and NOTs of MotorStorm RC.
HOT
Old-School Style Of Gameplay
If there's something missing about racing games these days, it is sheer fun and simplicity. Sure games like Forza 4 and Gran Turismo 5 are fun, but they're not the type of game you will see your entire family getting involved in. Those games are mostly for car enthusiasts who love to collect a large garage of expensive cars. MotorStorm RC is as simple as it gets as you are only racing as small remote-controlled cars. If you are old enough to remember the Micro-Machines and Circuit Breakers games on the PSOne, MotorStorm RC offers a similar style of simplistic gaming fun that just about anyone of any age will enjoy.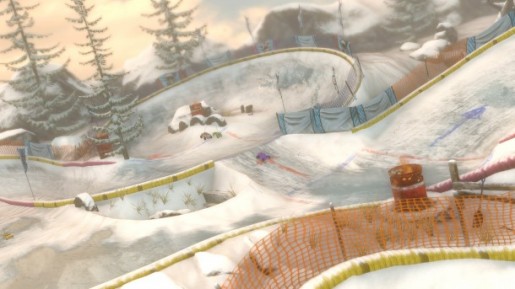 Offline Multiplayer Madness
Keeping with the theme of making things "old-school", MotorStorm RC offers 4 player split-screen racing action. 4 player split-screen games were abundant in the PSOne era as this was before the time video game consoles were able to be connected to the internet. Now that most people have their PS3's and Xbox 360's connected online, a number of games have sadly ditched split-screen gameplay altogether. Some recent examples of this have been Skate 3 and Battlefield 3 among many others. It's great to see that Evolution Studios has included the 4 player split-screen gameplay in MotorStorm RC as there's nothing quite like playing a game next to your friends and/or family members. Bear in mind, this is obviously only available on the PS3 version of MotorStorm RC.
Multiple Game Modes
There is more to MotorStorm RC than just racing against one another to be the top three on the podium. Although you can still do that in the standard "Race" mode. During the main single player mode called "Festival", you will encounter three other game mode that keeps the gameplay fresh and exciting. One of the modes is a time attack called "Hot Lap". This is where you need to get the fastest lap on any track. The game is helpful enough to show you the preferred racing line to beat the A.I's top times too. Another mode is called "Pursuit" where you have to overtake all your opponents within a set time. Lastly you have "Drift" where you earn points for doing fun things like powerslides etc. All in all, these modes are fun to play and separates this MotorStorm RC from being just another racing game…
Loads of Tracks and Vehicles To Unlock
The best thing about MotorStorm RC is that is pays homage to the all of the four previous games in the series. There are four areas in the which include the first MotorStorm game, Pacific Rift, Arctic Edge and Apocalypse. Each area houses 12 tracks for a total of 48 unique and different tracks in MotorStorm RC. The design of each track looks awesome especially the tracks from Pacific Rift and Arctic Edge. The miniature sized beach/jungle and ice tracks look pretty cool.
The racing tracks isn't the only thing you can unlock. There is a total of 96 vehicles in the entire game. There are a number of cars, monster trucks and dune buggy's you can collect. Although you cannot customise the appearance of the vehicles in the game, you can change the color of the paint job which is nice to see.
PS Vita And PS3 Versions For The Same Low Price
For the low price of $9.99, you can get MotorStorm on the PS3 and PS Vita. If you own a PS Vita, you don't have to pay extra for the PS3 version or vice versa. Both versions are included once you purchase the game which is nice.
There's not many differences between the two version in terms of content. The only obvious advantages is that the PS3 version has split-screen multiplayer and you can play it in stereoscopic 3D. Although the PS Vita version is great to have if you're travelling or wanting to kill some time.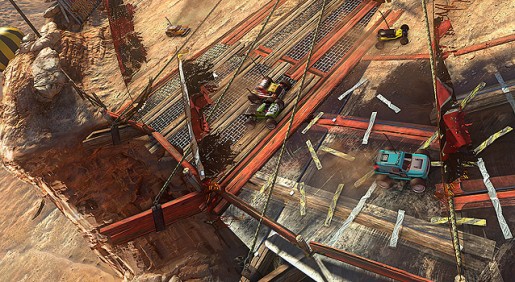 Not
No Online Multiplayer
It's great to see that MotorStorm RC includes offline split-screen multiplayer but there's no online multiplayer! It will be cool if developers these days included both forms of multiplayer and not just sacrifice one for the other. The only online aspects this game includes are online leaderboards.
Graphics Could Have Better
As simplistic as the gameplay is, the graphics are simple as well. They don't look bad, although they're not the type of graphics that are likely to stand up against other games on both the PS3 and PS Vita. I was playing Everybody's Golf and WipeOut 2048 on the PS Vita and those two games look noticeably better than MotorStorm RC in comparison. Even the PS3 version of the game looks outdated.
Verdict
Despite MotorStorm RC having simple graphics and no online multiplayer, the other features of the game are sure to please. There are a number of game modes and tracks on offer that will keep you occupied for several hours. Not to mention that the game is only $9.99 and this includes both the PS3 and PS Vita versions. It's hard to tell if long-term MotorStorm fans will like this spin-off title although it's still a fun racing game nonetheless.
[top /]
[Editor's Note: MotorStorm RC was reviewed on the PlayStation 3 and PS Vita platforms. The game was provided to us by the publisher for review purposes.]
MotorStorm RC Review

,