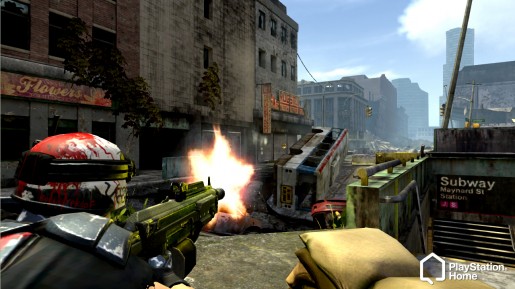 Sony Computer Entertainment America has announced that three new titles will be added to PlayStation Home. Although there are only three additions, everyone is bound to find something they enjoy amongst these varied Home-exclusive games.
First, there is Cutthroats: Battle for Black Powder Cove, which is out now. This free-to-play naval combat game puts the Home avatars into the role of captain or gunner. Decimate the other ships and search for gold in order to purchase upgrades and earn XP. No Man's Land (pictured above) is next on the list. This title will be a post-apocalyptic third-person shooter that uses "cover-to-over" movement and a "Tru-Aim" combat system. Finally, there's Mercia, a fantasy RPG filled with loot to be obtained that can be played alone or online.
Here are the official descriptions from the PS Blog:
Cutthroats: Battle for Black Powder Cove (out now): This team-based game puts treasure-troving, ship-sinking scoundrels in a series of breathtaking battles for riches beyond your wildest imagination. In this free-to-play platform exclusive, six teams of up to four players each take to the high seas, blasting each other's boats to smithereens in an ongoing sequence of seafaring skirmishes to increase XP and unlock exclusive content.
No Man's Land (coming Spring 2012): Hyper-violent, intensely gritty, and absolutely not for the faint-of-heart, No Man's Land is a post-apocalyptic third-person shooter unlike any other game in the history of PlayStation Home. Race through urban wastelands where chaos and disorder are ever-present, dodging enemy fire and exacting revenge on roaming bands of death-addicted warriors in a world gone mad. Squads of up to four players each clash in two game modes – Team Deathmatch and Scavengers – in pulse-pounding multiplayer mayhem where only the savage survive.
Mercia (coming Summer 2012): Enter the fractured realms of Mercia, Home's exclusive multiplayer RPG (Role-Playing Game). Take up your sword and embark on a journey through a fantastical world where adventure lies around every corner. With a high-fantasy narrative and gameplay elements that recount the most popular action RPGs of all time, Mercia offers players an enchanting online game experience across wondrous lands where heroes are born…and magic reigns supreme.
Head over to the PS Blog to see screenshots and videos for these upcoming games.