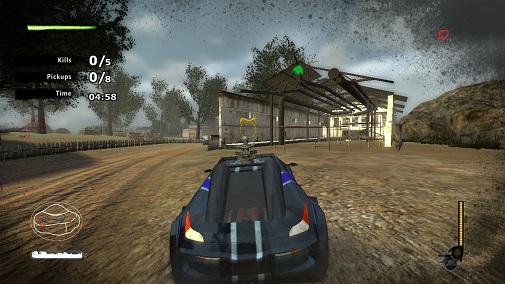 Cars. Explosions. A heavy metal soundtrack. Buzz saws. Mix these in a big, steely pot and you get something like Smash 'n' Survive, a vehicular combat game brought to us by new developer on the block Version2Games Limited. The concept of the game is simple; race around in a car and slam into other cars, occasionally activating a car specific power up to shake things up. Will Smash 'n' Survive be remembered as a break out hit and a fondly remembered entry into the genre, or will it be laughed out of the arena, exhaust pipe spluttering black smoke and windshield smashed?
Let's find out and kick off the HOTs and NOTs.
HOTs
Variety
There is a variety of vehicles to pulverise in Smash 'n' Survive, each of them with a unique weapon. There's a fair amount to be said in Smash 'n' Survives favour when it comes to its mission variety. Pretty much all of the playtime to be had in the game comes in its campaign mode, where you're faced with a gambit of mission objectives to keep things fresh. In addition to the standard 'kill everything in sight' mission type, you'll often be tasked with keeping a fellow car safe. Sometimes you'll have to sit in a certain spot disarming a bomb, fending off enemies as they attempt to jostle you into one of the maps various hazards, or just damage you to point of explosion. There are missions that require you to simply race around a track, through checkpoints, and other ones where you have to leap across aircraft carriers to collect tokens.
There's variety in Smash 'n' Survive. It's just too bad that the game cannot do any of it right.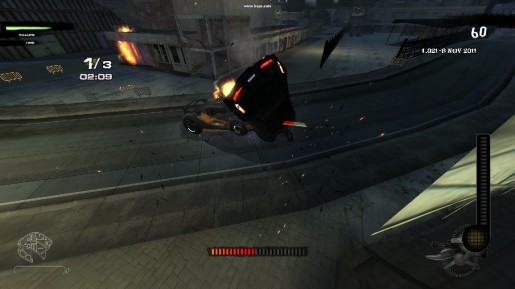 NOTs
Physics
Probably the crux of Smash 'n' Survive's failure is the physics. To put it simply: they're broken. The very act of manoeuvring your vehicle is a chore, as it feels as if every single arena, highway or road network is coated in a film of ice. The vehicles could really have done with a heightened sense of weight, as there's little sense of impact when you slam your car into another. Sure, the vehicles collide and fly off in all kinds of directions, but this is always because of the dodgy physics engine, rather than any display or raw, petrol-fuelled power. This issue is exacerbated by a gambit of frequent glitches and it wasn't uncommon for my car to corkscrew wildly into the air, land on its side and have to teleport upright again before I could continue. Acceleration, break and handbrake all function at their most basic, but none of them come together to make the vehicular madness fun.
Presentation
Visuals are of a standard seen on the PlayStation 1, with a menu and HUD design is from about the same era. What is supposed to be dirt just rings the screen for no discernable reason. Perhaps it's to reinforce the games down and dirty motor combat aesthetic, but it simply just looks bad.
Missions
There is allegedly a story. Before every campaign mission a slim paragraph of text purports to give some context to the mission. Generally it's something about a gang that you've joined, and other gangs that want to fight you and your gang. Smash 'n' Survive's campaign  chooses to ditch a decent storyline; instead throwing a disparate set of challenges at you without any kind of contextualisation or cohesion. Another important thing to mention is to restart a failed mission you must go all the way back to the main menu and sit through another round of annoying load times.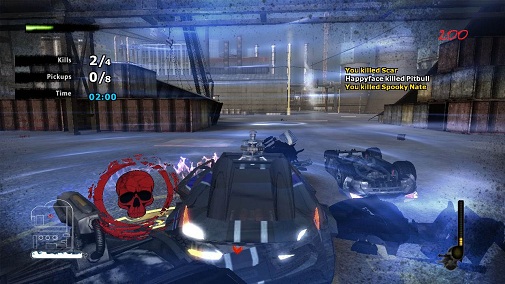 Music
I'm a fan of heavy metal in video games. When I want to get my adrenaline pumping in rhyme and rhythm to the destruction I'm causing, I love to do it with the double bass pedalling in my ears, and some heavy overdriven guitar chugging to my dominance. Smash 'n' Survive understands this, but like so much else, it ultimately fails to execute it.
The menu music is a tiresome, repeating three cords and the campaign music, while not exactly the same, doesn't have any kind of progression or stylistic flair. It's a boring din of aimless heavy guitar chords; one that sets the tone but doesn't capitalise on a possible adrenaline rush.
Verdict
Smash 'n' Survive is a substandard game in almost every respect. As loathe as I am to so heavily criticise the work of a start-up developer, there's no excuse for releasing a fundamentally broken piece of software. There is nothing in the way of visual or audio flair to forgive the slippery controls, the repetitive and tedious combat, or the physics engine that delights in sending you flailing randomly into the air. There is nothing in the way of redemption for Smash 'n' Survive. It's a three chord combo of bad design, irritating bugs and a baffling physics engine that makes you its helpless plaything.
[Editor's Note: Smash 'n' Survive was reviewed on the PlayStation 3. The game was provided to us by the publisher for review purposes.]
Smash 'n' Survive Review

,