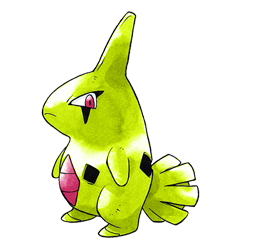 Nintendo revealed today that sometime in March and April, Pokemon Video Game Championships in Europe will be giving out a rare shiny Pokemon.
For this event, Pokemon fans who will bring their copy of Pokemon Heart Gold, Soul Silver, Black, and White will be receiving a Shiny Larvitar. If you don't know who Larvitar is, it's the one with a pointy head and has the Rock/Ground type. When the Shiny Larvitar gets transferred to your Pokemon game, it'll be carrying a super-rare berry and an attack called Superpower.
This event only applies in the European territory and not US.