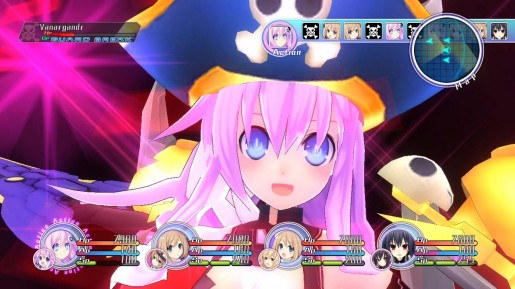 Around a year ago, NISA released Hyperdimension Neptunia for the PS3. This RPG took a unique stance on the genre by attempting to parody it. Surprisingly, the title was a smash hit and went on to be a sought after until it was reprinted. Naturally when Hyperdimension Neptunia MK2 was announced, fans were quite excited to see where this title will go. With this in mind, will it be a journey worth taking or is it a disgrace to the original?
Let's check out the HOTs and NOTS in our review of Hyperdimension Neptunia MK2.
HOT
Improved Combat
Hyperdimension Neptunia MK 2 boasts a number of improvements from the original game. The first is how the combat system is implemented. Unlike Neptunia, you're now able to move around during the combat sequences. Due to this you're now able to set up your attacks. Depending on your weapon and enemy position, it is possible to attack multiple foes at once. To further enhance your strategic possibilities, the AP counter is no longer timed. This means you're now able to input commands at your own pace.
Another major change is how items are handled. In the original game, everything was automated off of the item skill system. MK2 however, does away with this crazy system and allows you to freely use them. They will cost AP/SP to use, but this is welcome trade off.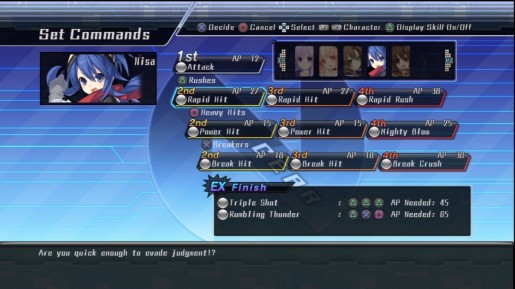 Contrary to the previous title, you can't customize your attacks as much. While this sounds like a drawback, it actually refines the overall system. You're still able to edit your commands, though they're broken up into different types. Triangle covers rushes, square performs heavy hits and X does breakers. You can freely swap skills of the same type, but you can't mix and match. Thanks to this, performing an EX Finisher or bonus attack is easier. This is due to the fact that the inputs don't change. For instance, NISA's Triple Shot will always be triangle, triangle, triangle, as long as you use 45 AP in the process.
The final change is to the CPU mode. Originally you could transform using certain attacks, but that is no longer the case. Now you must obtain a certain amount of SP and push square. You will remain in this mode till you no longer have the SP to support it. While this might seem annoying, CPU mode is still overpowered.
Various Tweaks
Besides combat, there are many other improvements to this game. The biggest is how you run around dungeons. While the original game used random encounters, MK2 uses a unique system. As you explore the small dungeons, you will see random enemies walking around, giving you the option to avoid as many fights as possible or simply engage every enemy. The real highlight however, is the new symbol attack system. With this you're able to swing your weapon outside of combat. If it hits an enemy, one of two things will happen. The first is you initiate battle, which gives you increased AP, plus you're able to move first. The other outcome is based on your difference in power. If the game believes the fight will be a waste of time, then that will simply vanquish the enemy. This is a fantastic addition, as it allows you to explore earlier dungeons without wasting time.
Besides gameplay, many of the artistic shortcomings were removed. Many of the characters that were silhouettes have been upgraded to include their own character model. This was definitely one of my biggest gripes with Neptunia, as it felt so lazy and out of place. Besides improving minor elements, the art looks slightly more colorful than before.
Finally the overall world is more streamlined. Before you had to spend time moving from town to town, but now you can just simply warp there. This is true for any dungeon or area you've unlocked in the game. Additionally each area shows you its breakdown, and the same goes for quests. With these tools, it's far easier to change the share breakdown. This will come in handy when unlocking certain events or items. Besides this, the actual towns have a new option called "chirper". Much like its name, it is heavily based off twitter. With this you can slightly interact with the town's people and characters in your party.
References are Done Right
When I played the original Neptunia, I couldn't help but notice all the references. After a while, the game felt like it was trying too hard to capitalize on the concept. The opposite is true for MK2. Instead of having references everywhere, they're mostly isolated to enemies. As you progress though the game, you will see a number of enemies based on classic video games. This might be Tetris blocks, Pacman ghosts, Mario pipes, and many more.
NOT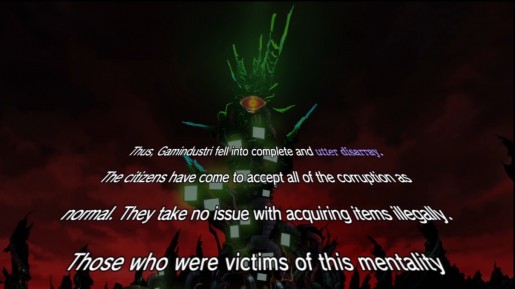 Preachy Story
Neptunia takes place in the world of Gameindustri. Like the name suggests, you're battling to save the Gameindustri. This is achieved by stopping the evil Arfoire, whose name is a reference to a DS piracy device. In MK2, she has a cult and there are a number of CFW villains. Similar to Arfoire, the CFW in their names refers to the PSP piracy method of custom firmware. The big difference this time is the fact that this element is heavily enforced at the beginning of the game. It would have been nice to see a new enemy or at least less importance on people stealing games.
Cash is Useless
Pacing is an extremely important part of any truly great game, especially because it allows you to appreciate certain elements more and helps you progress through the game. MK2 completely fails when it comes to currency. At the start of the game, you'll most likely not have to spend money on anything, except for upgrades. This will allow you to work on gaining funds. However, it takes a while for there to be a need for healing items. Even when that occurs, you'll most likely have so much cash that buying the maximum amount of something is a small dent in your total. I personally had no problem buying everything I needed, while maintaining over 100,000 in my pocket. This problem is only amplified by the fact you can freely download 100,000 in cash via DLC from the PSN store.
Item Synth
Similar to cash, the Item Synth system is pretty pointless. Like any other alchemy system, you can combine various materials you find to make items. This could be a fantastic system, if the items were more abundant. I currently have over 70 different material types, but I can only create four items. Considering I can simply buy these items, with minimal hassle, it makes the whole system feel incredibly pointless.
VERDICT
Hyperdimension Neptunia MK2 is vastly superior to the original. The combat is far more enjoyable and offers greater depth than Neptunia. Considering almost every shortcoming has been improved, there is no reason to skip this title. It still isn't quite perfect, though it one of the better RPGs I've played in a while. If you're a big fan of gameplay and don't mind an uninventive story, then I strongly suggest giving Hyperdimension Neptunia MK2 a look. If you believe that the story is everything, then you'll most likely dislike this game.
[Editor's Note: Hyperdimension Neptunia mk2 was reviewed on the PlayStation 3 hardware. The game was provided to us by the publisher for review purposes.]
Hyperdimension Neptunia MK2 Review

,